What is Auger Conveyor?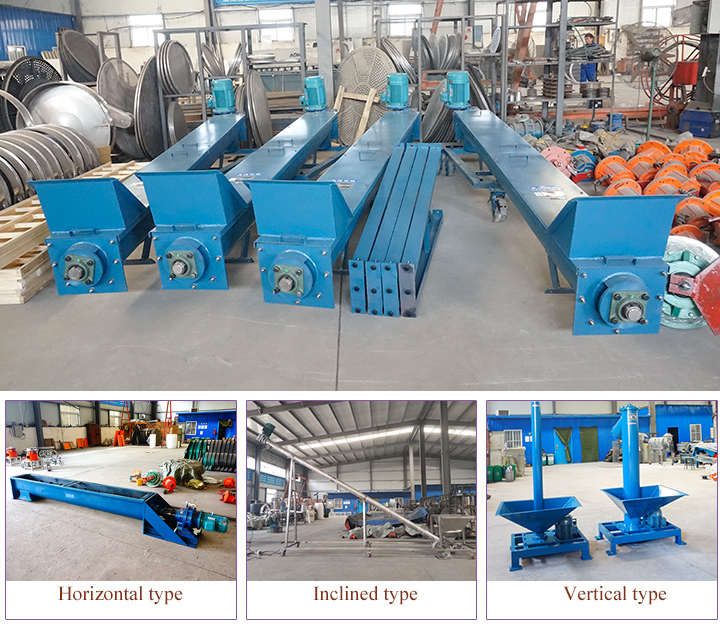 Auger conveyor consists of a helical screw rotating inside a closed tube or an open U-shaped tube, the material is fed through the inlet of the screw conveyor, passed through the conveyor by the rotating screw conveyor, and taken out through the discharge end. The Auger conveyor is capable of conveying powdery, granular, lumpy, and even stagnant products, such as food waste, wood chips, aggregates, grain, feed, municipal solid waste, etc., at any angle from horizontal to vertical, and can be permanently installed or portable, And there are a variety of sizes and configurations to choose from.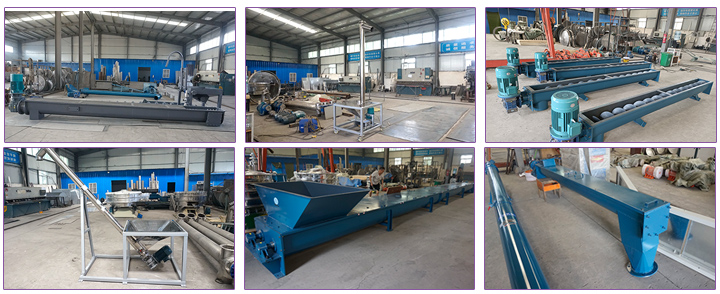 What are the different types of auger conveyors?
| | | | | |
| --- | --- | --- | --- | --- |
| Type | Tubular Auger Conveyor | U type Auger Conveyor | Shaftless Auger Feeder | Stainless Steel Auger Feeder |
| Image | | | | |
| Features | Suitable for ordinary material transportation, low cost | Suitable for horizontal/small inclination conveying, the inclination angle does not exceed 15°. It has great advantages for occasions with large dust and environmental requirements | No center pipe eliminates the build-up of sticky materials | Corrosion resistant, high temperature resistant, clean and hygienic, not easy to rust, special for food and pharmaceutical industries |
| Capacity | 142m³/h | 134m³/h | 458m³/时 | 244m³/h |
| Length | 2-70 meters | 20 meters | 15 meters | 2-70 meters |
| | | | |
| --- | --- | --- | --- |
| Type | Twin Auger Feeder | Water-cooled Auger Feeder | Mobile Auger Feeder |
| Image | | | |
| Features | It can crush and agitate materials, and the conveying capacity is larger than that of single shaft auger conveyor | Equipped with a water cooling system, the maximum temperature of the feed material can reach 720℃, and the discharge temperature can reach 50℃ through the cooling water flowing in the spacer and the central spiral pipe. | A universal wheel is installed at the bottom, which is convenient to move, and is suitable for unfixed position transportation operations such as bulk material loading. |
| Capacity | 458m³/时 | 6m³/h | 199m³/h |
| Length | 2-70 meters | 25 meters | 2-70 meters |
Working Principle of Auger Conveyor
When the screw shaft of the auger conveyor rotates, due to the impetus of the blades, at the same time, under the action of the material's own gravity, the friction between the material and the inner wall of the material tube, and the internal friction of the material, the material slides relative to the spiral blade and the material tube. The form moves forward in the material pipe to complete the conveying of the material.
Structure of the auger conveyor
The main components are: driving device, end bearing seat, screw shaft, spiral blade, end feeding port, middle feeding port, middle bearing seat, head end bearing seat, middle discharge port, first end discharge port, machine slot, etc.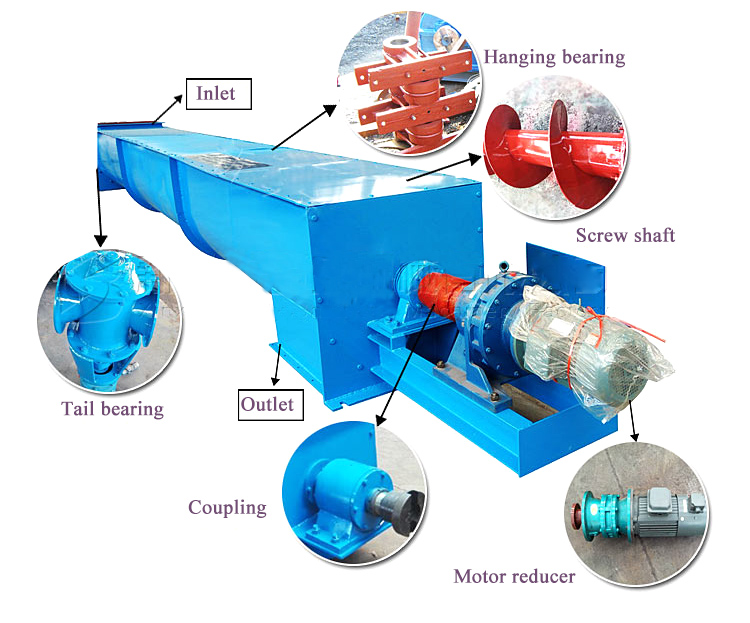 Drive device: It is the power part, divided into single drive and double drive. The drive motor is suitable for 380V, 3-phase, 50Hz, its protection grade is IP55 (outdoor type), and the insulation grade is F grade. The gear reducer is composed of high torque, low noise and no oil leakage.
Bearings: including first and end bearings and intermediate bearings. The first and end bearings are arranged outside the machine slot, which is convenient for installation and maintenance, and at the same time prevents dust from entering the bearings.
When the auger conveyor is too long, it is usually assembled in multiple sections. When it exceeds 3-4 meters, an intermediate bearing, also called suspension bearing, should be installed. Its main function is to bear part of the weight and operation of the screw shaft. The force generated at the time.
Machine groove: used to support screw shafts, intermediate bearings and conveying materials.
Spiral blades: Choose carbon steel, stainless steel and manganese steel according to the material. For the conveyor's viscous and winding materials, shaftless spiral blades can be used.
Custom Design
Auger conveyor material (carbon steel or stainless steel), trough width, import and export distance, feed port size, feed port quantity, etc. (customized on demand)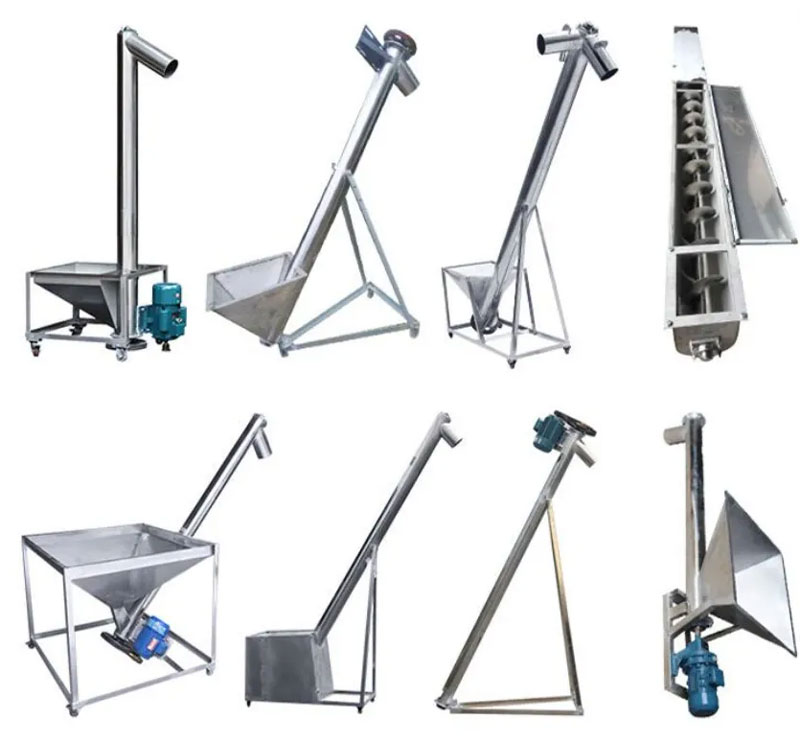 Available Options
1、Solid Shaft and Shaftless augers available
2、Can be integrated with hinged steel belt conveyor
3、Troughs and covers
4、Perforations
Benefits of Auger Conveyor
Large conveying capacity

It allows to transport a large amount of materials in a small space, with a conveying capacity of 458 cubic meters per hour and a length of up to 60 meters.

Fast and even delivery

The high speed of the whole machine ensures fast and uniform transportation, the material is not easy to be blocked, and it can be connected and fixed with other supporting equipment.

Sealed delivery

The sealed structure is conducive to conveying materials that are easy to fly, hot and strong odor, which can reduce the pollution to the environment and improve the working conditions of workers.

Easy to load and unload

Horizontal screw conveyors can be loaded and unloaded at any point on their conveying line, and vertical screw conveyors have superior feeding capacity compared to screw feeding devices.

Flexible layout

It can be arranged on elevated, ground or pit, can be installed horizontally or on a slope (≤15°), and can also be transported vertically upwards.
Related Videos
Auger Conveyor for Coal Powder

Shaftless Auger Conveyor for Sludge

Auger Conveyor for Rice Bran
Auger Conveyor Specification
Model
Diameter
(mm)
Pitch
(mm)
Rotating speed
(r/min)
Capacity
(m³/h)
Rotating speed
(r/min)
Capacity
(m³/h)
Rotating speed
(r/min)
Capacity
(m³/h)
Rotating speed
(r/min)
Capacity
(m³/h)
Small
100
100
100
140
2.2
112
1.7
90
1.4
71
1.1
125
125
125
125
3.8
100
3
80
2.4
63
1.9
160
160
160
112
7.1
90
5.7
71
4.5
56
3.6
200
200
200
100
12.4
80
9.9
63
7.8
50
6.2
Small
250
250
250
90
21.8
71
17.2
56
13.6
45
10.9
315
315
315
80
38.8
63
30.5
50
24.2
40
13.4
400
400
355
71
62.5
56
49.3
45
38.6
36
31.7
Large
500
500
400
63
97.7
50
77.6
40
62
32
49.6
630
630
450
50
138.5
40
110.8
32
88.6
25
69.3
800
800
500
40
198.5
32
158.8
25
124.1
20
99.3
The following is the necessary information to provide to suppliers when specifying the appropriate auger conveyor for the job. Note that this section only outlines the main specifications, but more exist.
1. The capacity of the auger conveyor
Calculate the volume that needs to be conveyed per hour; this can be done by finding the required cubic feet per hour, selecting the recommended trough loading percentage for the conveyor, selecting the correct screw diameter, and determining the conveyor drive RPM. The recommended maximum auger conveyor capacity is usually given on a per screw diameter basis and is also affected by the pitch type and size as well as the material being conveyed.
2. Screw design and transmission
There are many screw designs, each with its own advantages. Certain types, such as paddle screws, are used to ensure additional mixing occurs, while short pitch screws are often used to incline the conveyor to maintain efficiency. Determine the helix design based on the desired functionality of the auger conveyor and choose from the available options. Also, screw design is drive dependent as there must be enough horsepower to pull material through the auger. Getting the correct driver for the desired screw shape will help ensure it works as intended.
3. Load type, trough load and trough design
What will go through the conveyor belt? Depending on the material, there are a variety of options available that will help make it easier to convey. For example, if the product is light, dry and hazardous, consider a sealed circular trough that provides high dust protection and regulates flow. Also, if the material is stagnant in nature, consider lower trough load percentages and shaftless screw types. The shape of the trough will affect the conveyor capacity, so determine which trough design is best for the desired flow rate.
4. Behavior, Control and Environment
Finally, consider the external factors and behavior of the screw conveyor in your application. How far must be covered? Will it increase/decrease in height, and will the material need to be separated from the operator/atmosphere? Also, is the conveyor running at a set speed, or is a variable speed drive used to vary the speed? Will the conveyor be part of a larger control system and will sensors need to be embedded for accuracy?
Application of Auger Conveyor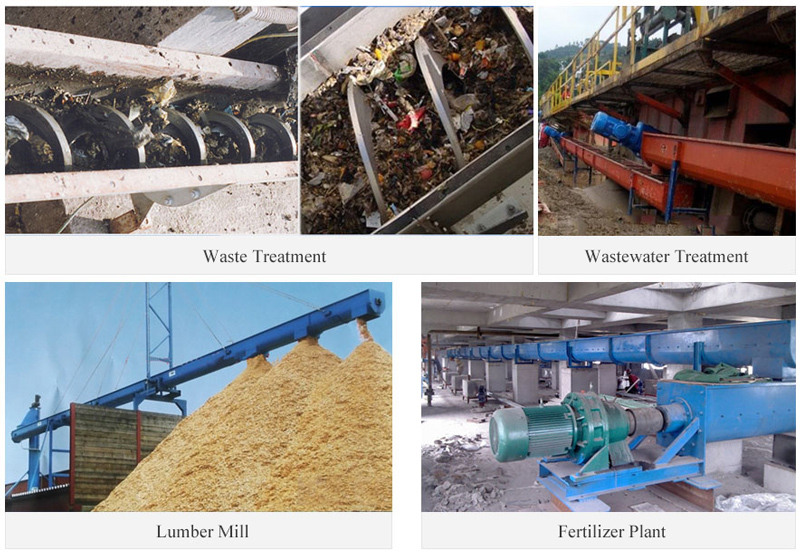 Auger conveyor is divided into two types with shaft and without shaft. The shaft screw conveyor is suitable for non-sticky dry powder materials and small particle materials (such as: cement, fly ash, lime, grain, etc.), and the shaftless screw conveyor is suitable for conveying viscous and viscous materials. Risk of clogging on the shaft (eg: sludge, pulp, biomass, garbage, etc.), the use of fully enclosed conveying and easy-to-clean helical surfaces guarantees a hygienic environment and ensures that the delivered material is free from contamination and leaks. The following are its typical applications:
1. Agriculture
Auger conveyors are used in agriculture to move grain from a truck, grain cart or grain trailer into a grain storage bin (which is subsequently removed through a gravity chute at the bottom).
2. Grain processing
The main industry where the Auger conveyor is applied is the grain industry, because ordinary conveyor belts cannot successfully transport powder and granular objects, and such a result greatly affects the transportation and transmission operations of the grain industry, so the development of a spiral blade as a power transmission method The advanced screw conveyor can not only successfully convey the objects in the grain industry, but also save a lot of labor.
3. Waste treatment
Screw conveyors can also be found in wastewater treatment plants to remove solid waste from the treatment process.
Proof of Solutions for Our Wide Range of Products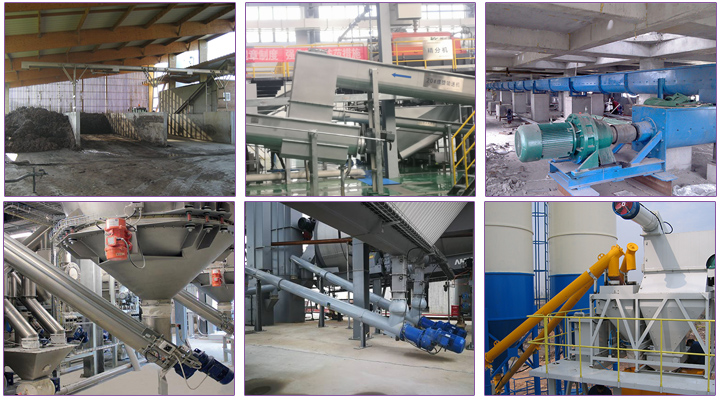 Auger Conveyor Manufacturer
Dahan auger conveyor manufacturer specializes in making auger conveyors, with full models, reasonable prices, and one-year warranty. It can be reasonably selected and designed according to the particle size of the conveyed material, conveying volume, and conveying distance, so that the material is not jammed, arched, and the material is discharged smoothly. , Provide parameters and drawings for free. Fast delivery, 100% direct sales manufacturers.
Every production process of Auger conveyor has been inspected and tested by the quality inspection department in the factory. After passing the test, a transfer form is issued. Important inspection records are filled in. The transfer form can be used to transfer to the next process or leave the factory. The manufacturer has obtained ISO and CE certification, and the quality is reliable. , If the machine has quality problems within 30 days after being sold, users can choose to repair or replace the machine free of charge. If there is a performance failure that cannot be repaired, the user can choose to replace the machine with the same model (no depreciation fee is charged).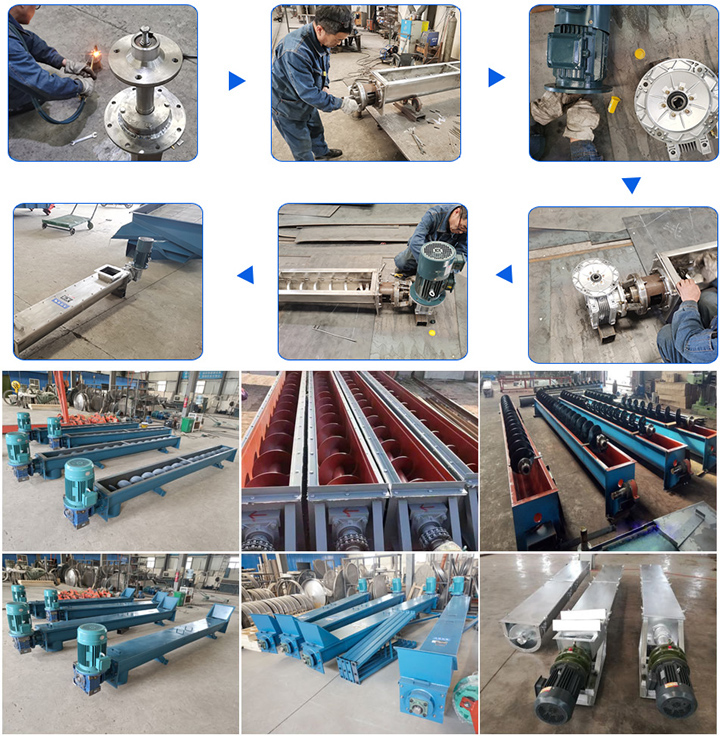 Our Certifications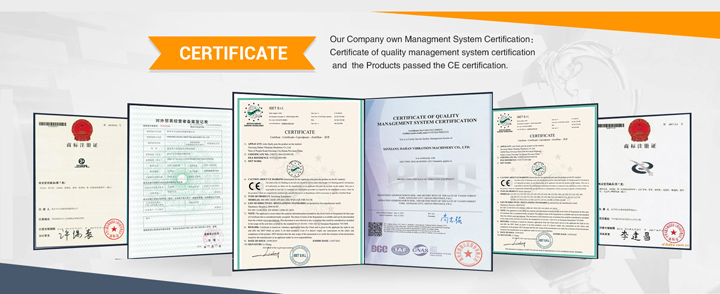 Q: How can I choose the right model?

A: You need to provide some parameters such as installation conditions, material name, particle size of the material, whether the material has hardness, whether the material has viscosity, material temperature, distance between import and export, the conveying volume you need, etc. We will help you choose a reasonable type Meet your needs.
Q: Do you provide OEM service?

A: Yes. We can customize the design according to your different requirements for sludge dewatering.
Q: How do we trust you and your company? Is this your first transaction?

A: Our company has more than 13 years of professional experience. We have cooperated with more than 1,000 customers in China and overseas. We export to nearly 60 countries all over the world.
Q: Do you provide after-sales service?

A: Video technical support, online support, spare parts, on-site maintenance and repair services
Q: How long is your warranty period?

A: 1 year after the arrival of the goods. During this period, as long as it is not artificially damaged, we will send the damaged parts free of charge.
Q: How is your production time? What kind of transportation do you provide?

A: Pay the down payment within 30 days. Air, land and sea.
Q: What kind of payment do you accept?

A: T/T, L/C, Paypal, Cash, D/P, D/A, Western Union, Money Gram.
Recommend Product