Introduction of Shaftless Screw Conveyor
Shaftless screw conveyor is a conveying system that uses a rotating helical auger to move material along a conveyor line. Unlike standard screw conveyors, where the central shaft runs the length of the helical screw, a shaftless screw conveyor has no shaft, which means the screw can rotate freely within a trough or tube. The absence of a central shaft in a shaftless screw conveyor has several advantages over a standard screw conveyor. On the one hand, it eliminates the need for a central shaft, which can be a source of wear and maintenance problems. It also means that the conveying The machine can handle a wider range of materials, including sticky, cohesive or fibrous materials that may be wrapped or wrapped around a central shaft.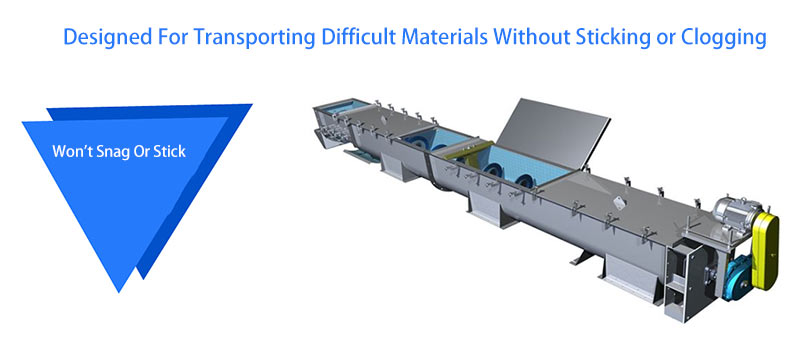 Shaftless screw conveyors are commonly used in sewage treatment plants to convey sludge, grit and other solids. They are also used in industries such as food processing, mining and agriculture, where they can be used to move bulk materials such as grain, seeds and powders. Shaftless screw conveyors are available in a variety of designs and configurations to suit different applications. They can be horizontal or sloped and can be designed for both dry and wet materials. They can also be customized with a range of accessories and features such as hoppers, chutes and stands.

Types of Shaftless Screw Conveyors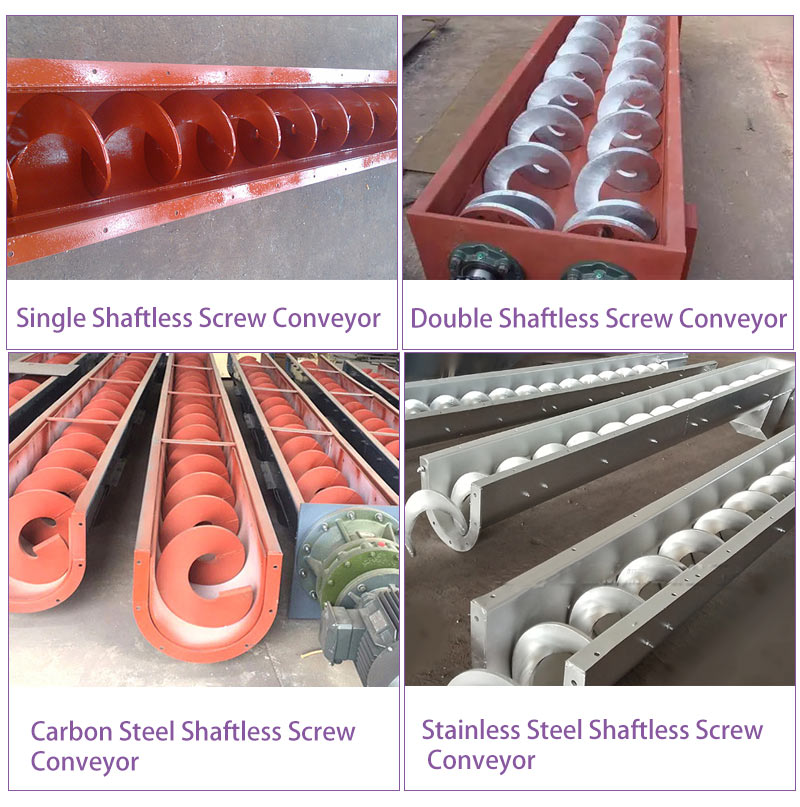 Single Shaftless Screw Conveyor: It is composed of a shaftless screw. No matter which direction it runs, it does not have the function of stirring. When the material goes down to the feeding port, the screw shaft rotates. Due to the gravity of the material and the contact with the tank wall The friction force generated makes the material move forward along the bottom of the conveyor under the push of the blade.
Double Shaftless Screw Conveyor: It is composed of two shaftless spirals. Because the screw shafts on both sides turn to different directions, it has the functions of mixing, stirring and cooling. The conveying capacity of the double helix blade is larger than that of the single helix blade, and the conveying capacity of the double helix has been increased to 1.5-2 times that of the single helix for one revolution.
Model&Parameters of Shaftless Screw Conveyor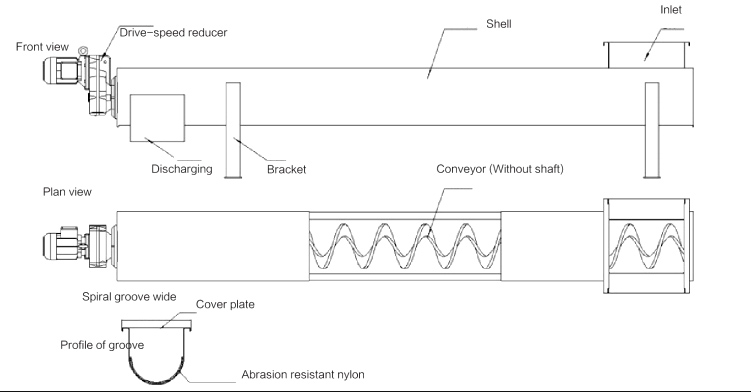 | | | | | | | |
| --- | --- | --- | --- | --- | --- | --- |
| Model | WLS150 | WLS200 | WLS250 | WLS300 | WLS400 | WLS500 |
| Spiral diameter(mm) | 150 | 184 | 237 | 284 | 365 | 470 |
| Outer diameter(mm) | 180 | 219 | 273 | 351 | 402 | 500 |
| Incline degree(a) | 0 °-30 ° | 0 °-30 ° | 0 °-30 ° | 0 °-30 ° | 0 °-30 ° | 0 °-30 ° |
| Max Length(m) | 12 | 13 | 16 | 18 | 22 | 25 |
| Capacity(t/h) | 2.4 | 7 | 9 | 13 | 18 | 28 |
Motor
Model
L ≤ 7
Y90L-4
Y100L1-4
Y100L2-4
Y132S-4
Y160M-4
Y160M-4
Power kW
L ≤ 7
1.5
2.2
3
5.5
11
11
Model
L>7
Y100L1-4
Y100L2-4
Y112M-4
Y132M-4
Y160L-4
Y160L-4
Power kW
L>7
2.2
3
4
7.5
15
15Notes : The parameter above is just for reference, Model please inquiry us directly. We accept customization.
Description of necessary parameters for selection:
Necessary: spiral diameter A, conveying length L, spiral material, U-shaped groove material
Standard configuration without instructions: installation angle 0°, inlet height 0.6M, power standard configuration, reducer standard configuration.
Working Principle of Shaftless Screw Conveyor
The shaftless screw conveyor is driven by the motor to run the cycloid reducer, and the screw is rotated by the transmission of the mechanical seal shaft and the connecting plate on the shaftless screw body. When the product is discharged into the upper part of the U-shaped groove, it is The product is discharged from the discharge port at the bottom of the U-shaped groove through screw transmission. A horizontally installed shaftless screw conveyor can collect the sludge treated by two filter presses and one centrifuge at the same time, and transport it to the next process.
Application of Shaftless Screw Conveyor
Shaftless screw conveyors with shaftless design for handling municipal solid waste, screens and floats, dewatered, thickened or conditioned sludge, packaged food, cream or paste, and meat, fish, fruit and waste from vegetable processing. Main areas of application are: Waste water treatment, sugar mill waste, fish industry, solid waste treatment, fruit and vegetable processing plants, beverage industry, pulp and paper, chemical industry, general food industry, meat processing plants, slaughterhouses/slaughterhouses , restaurants, canteens and general catering.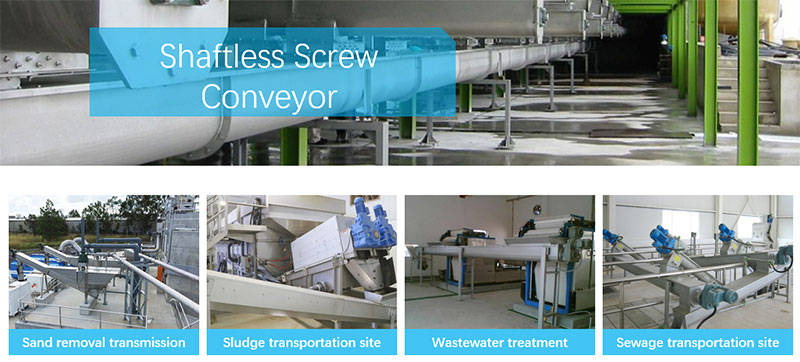 Related Videos
Slurry shaftless screw conveyor

Double shaftless screw conveyor for conveying clay

Inclined shaftless screw conveyor for conveying sludge
Benefits of Shaftless Screw Conveyors
Eliminate tangles or sticking

The shaftless screw eliminates typical blockages and build-up and is capable of conveying large, irregularly shaped viscous products.

Can be on steep slopes

Conveying material The material can be conveyed on a slope angle of 0 to 90 degrees, and the material can also be conveyed vertically, and the conveyor can be installed in a narrow space.

Can handle more product at lower RPMs

A cantilever screw can transport materials up to a distance of 32m. There is no need to adjust belt tension, greatly reducing routine maintenance.

Various connections are possible

There is no restriction on the type of connection between equipment without bearings at the end of the conveyor, Can be designed to fit within space limitations or plant layout.

Prevent material leakage

The conveyed material has no odor or overflow problems, eliminates environmental and product contamination, and greatly reduces labor for routine maintenance and cleaning.

Low noise, Long lasting due to wear resistance

Noise levels are low and wear on the resin lining is reduced when the material is conveyed at low rotational speeds on the resin lining.
Shafted Screw Conveyor Shafted VS Shaftless Screw Conveyor
Shafted screw conveyors have a central shaft running through the length of the helical screw, while shaftless screw conveyors have no central shaft. The choice between them depends on the specific application and the materials being transported. The table below will show you both The difference before the machine:
Comparison item
Shafted screw conveyor
shaftless screw conveyor
Structure
There is a central axis that runs the length of the helical screw. The screw is mounted on bearings at both ends and the shaft is supported by hanger bearings at regular intervals along the length of the conveyor.
The absence of a central shaft eliminates the clogging and build-up common in shafted screw conveyors.
Application
Conveying viscous materials such as powder and small granular materials, mud and other viscous materials will adhere to the inner tube shaft and blades, and the transport of bulk materials is easy to jam.
A wider range of materials can be handled, including sticky, viscous or fibrous materials that may be wrapped or wrapped around a central shaft. Shaftless screw conveyors are often used in situations where materials need to be conveyed over long distances or where there are multiple discharge points.
Delivery volume
The conveying capacity of the shaftless screw conveyor is 1.5 times that of the traditional shafted screw conveyor with the same diameter
Maintain
No liners are required, reducing maintenance.
Product is less prone to clogging, build-up, increasing uptime, increasing efficiency and reducing maintenance. It eliminates hanger bearings and end bearings to reduce maintenance and increase efficiency - enabling direct transfer to another conveyor.
Structure and Options of Shaftless Screw Conveyor
The shaftless screw conveyor is mainly composed of a driving device, a head assembly, a casing, a shaftless screw body, a tank liner, an inlet, an outlet, a cover (optional), a base, etc.
1. Spiral groove: It is mainly made of 4.5mm plate on the mould, which is pressed into a circular overall casing. The bottom of the spiral conveying groove is set in a semicircular shape on the upper casing to form a circular wear-resistant lining. The material is made of It is made of non-metallic material with high wear resistance. The arc of the lining ring matches the radius of the spiral body to reduce excessive clearance and improve the conveying effect. The service life of the wear-resistant lining is high. The setting of the lining ring is convenient for installation and replacement. Guarantee for more than 2 years. The liner height is higher than the center of the conveyor trough.
2. Shaftless spiral blade: It is made of high-strength material with sufficient strength and rigidity. The shaftless spiral blade is formed by hot drawing with a tooling mold, and the distance between the formed blades is uniform and uniform. The diameter of the outer circle is matched with the spiral groove, and has a suitable rotation speed, which can achieve the purpose of conveying materials without causing blockage. The thickness is not less than 20mm. The height of the spiral piece is not less than 80mm.
3. Shaftless screw drive mechanism: It is assembled at one end of the screw conveyor and directly connected with the drive shaft of the screw blade without a coupling. The reducer is a combination of helical gear and worm gear, flange-mounted, with high transmission efficiency, low noise, long service life and stable operation.
For your convenience, you can refer to the following table to clarify your machine configuration:
CONFIGURATIONS / OPTIONS
Type of Steel
• Carbon Steel
• High Brinell Carbon Steel
• Stainless Steel
Capacity
• Up to 17,000 CFH
Pitches
• Full, 2/3, 1/2
Trough
Trough
Options
• Liners(Polyethylene liner is not corroded in lye)
• Rider Bars
• Inspection and Overflow Hatches
• Various Drive Configurations
• Housings: CEMA Standard
• U-Trough or Split Tubular Housing
Configurations
• Single or Inner/Outer Flight Design
• Twin Screw
• Multiple Live Bottom Feeders
Available Features / Options
There are several options available for shaftless screw conveyors that can be customized to suit specific application requirements. Here are some of the most common options:
1. Trough materials: Shaftless screw conveyors can be constructed from a variety of materials, including carbon steel, stainless steel, and abrasion-resistant materials. The choice of material depends on the properties of the conveyed material, the operating environment ment, and the specific application requirements.
2. Screw shaft: can be single shaftless, double shaftless or multiple shaftless screws.
3. Covers and guards: Shaftless screw conveyors can be fitted with covers and guards to protect the conveyed material from contamination or to meet safety regulations.
4. Inlet and discharge options: The inlet and discharge options can be customized to suit the specific application. For example, the inlet can be fitted with a hopper or bin to facilitate loading, and the discharge can be fitted with a variety of options, such as a slide gate, rotary valve, or diverter valve.
Installation Arrangement of Shaftless Screw Conveyor
Installation method: Our company can provide hanging type; ground and hanging mixed type; mobile type, rotary type and turret type that can be rotated around the axis of the feed inlet.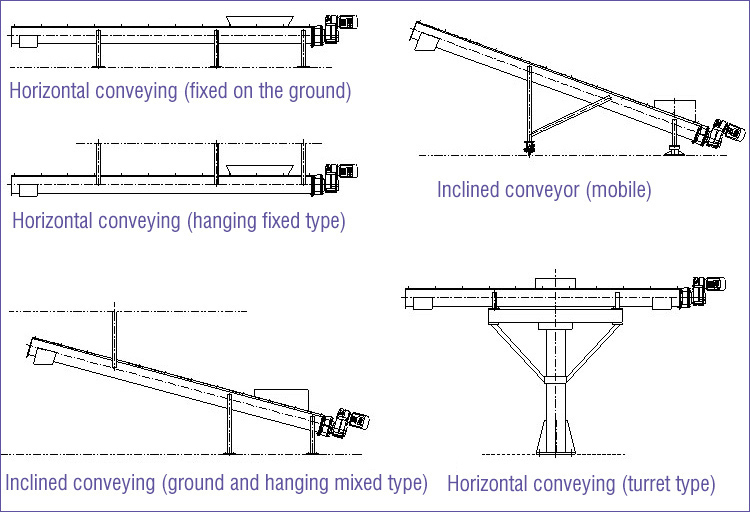 | | | | | | |
| --- | --- | --- | --- | --- | --- |
| Installation Angle | 10° | 15° | 20° | 25° | 30° |
| Delivery Volume As A Percentage of Horizontal | 80% | 70% | 60% | 50% | 40% |
The value in the above table of the shaftless screw conveyor is the conveying capacity under the condition of conveying semi-liquid material. When conveying granular, loose material, sludge and other materials with certain accumulation, the value in the table should be increased by 10%-20 %.
The value in the table is the conveying capacity when the rotation speed is n=30r/min. When the lining plate with better wear resistance is used, the speed can be increased by 20%-100% according to the diameter, and the conveying capacity can also be increased by 20%-100 %.
Proof of Solutions for Our Wide Range of Products
Conveying products: kitchen waste

Conveying capacity: 26 tons/hour

Conveying length: 4 meters

Recommended model: WLS315

Customer Reviews:

This equipment is used to transport the kitchen waste after oil and water separation in our restaurant. I bought it from other manufacturers before, which is prone to garbage leachate and has a particularly unpleasant smell. This machine has not been used so far.

Conveyed product: sludge

Conveying capacity: 20 tons/hour

Conveying length: 3 meters

Model: WLS160

Customer Reviews:

The moisture content of our sludge is roughly 60%. After using it for so long, we have not encountered the problem of material accumulation. The conveying volume basically meets our requirements, and it will not cause scattering and leakage, pollute the environment, and reduce indoor odors. spill.

Conveying product: white ash (30% moisture)

Conveying capacity: 1 ton/hour

Conveying length: 4 meters (angle 20°)

Recommended model: WLS200

Customer Reviews:

Dahan has a special person to connect with our company from selection, proofing, processing and delivery. After the arrival of the goods, he carefully explained the operation skills and precautions in the use process for us, which is too worry-free.

Conveyed product: solid waste

Conveying capacity: 30 tons/hour

Conveying length: 12 meters

Recommended model: WLS400

Customer Reviews:

The high degree of automation, low energy consumption and stable operation can not only reduce maintenance costs, but also have considerable production benefits.
Shaftless Screw Conveyor Manufacturers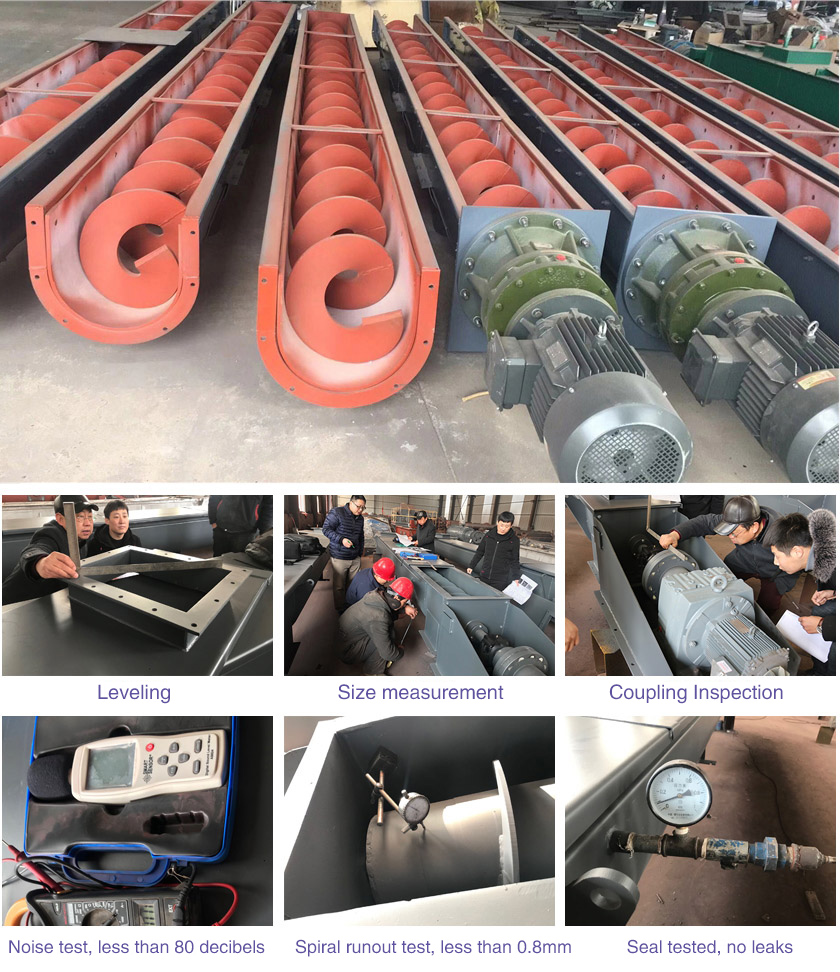 he shaftless screw conveyor models produced by Xinxiang Dahan Vibration Machinery Co., Ltd. include: tubular/u-shaped/double shaftless, stainless steel shaftless screw, etc. Design is required.
Dahan manufacturers have obtained ISO and EU CE certification, and the products have passed the inspection, installation and commissioning of the quality inspection department. The whole machine is guaranteed for 1 year, and the replacement parts are guaranteed for 6 months. The products are assembled and delivered by Dahan manufacturers, and can be used after receiving the goods. If you have any questions during the period, you can consult customer service. If necessary, you can arrive at the user site for maintenance. In addition, Dahan has also established a special parts warehouse, which can ensure timely supply and reduce the risk of equipment downtime. Welcome to consult and negotiate!