Introduction of Tumbler Screen
Tumbler screen imitates the principle of manual sieving, combining sieving (circular motion) with hand sieving (parabolic motion), resulting in a three-dimensional flipping motion (elliptical motion) that helps achieve 99% higher screening or grading of any material Efficiency, often used for controlled screening, grading and dedusting of dry, powdered and granular products, especially for high feed rates and multi-layer separation of fine, fragile, fragile and light products that are difficult to screen, with a total of 5 decks that can help achieve grading in up to 6 sizes.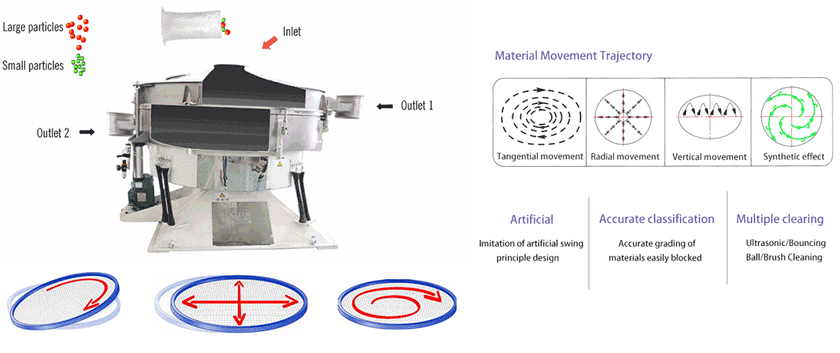 Tumbler screen has screens down to 20 microns for applications with feed particle size from 1 micron to 20 mm, the device is capable of screening throughputs from 10 kg/h to 50 t/h depending on the product, mesh size and the feed flow of the machine.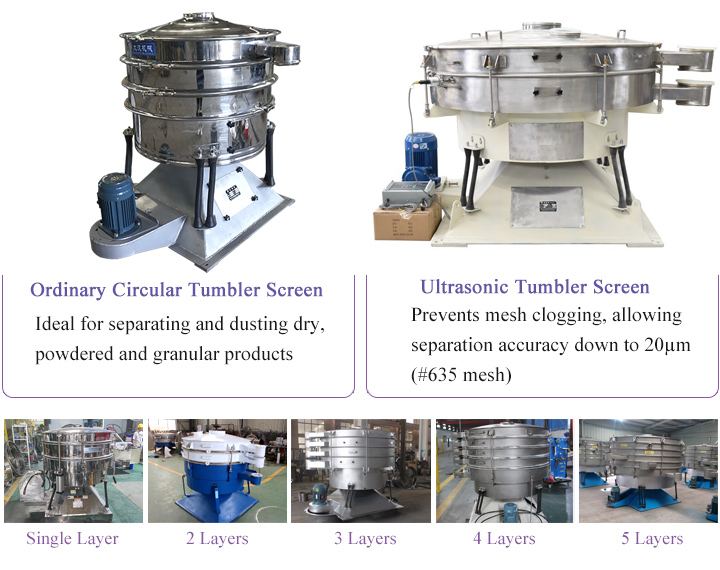 Applicationof Tumbler Screen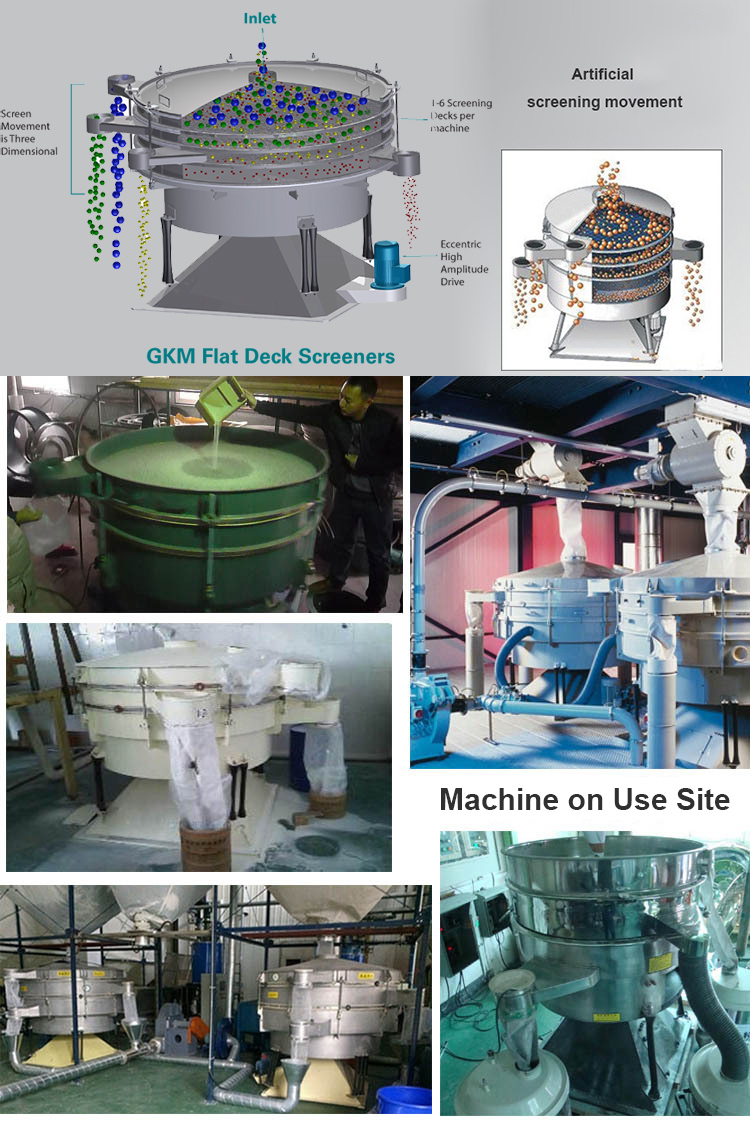 Tumbler screen is used to accurately separate powders and granules of grade 1-6, usually used for controlled screening, grading and dedusting of dry, powdered and granular products, especially for fine, fragile, brittle and light products that are difficult to screen The high feed rate and multi-layer separation are widely used in food, pharmaceutical, chemical and high-performance materials (plastics) and minerals, and are suitable for feed rates from 10 kg/h to 40 t/h.
Working Principle of Tumbler Screen
The material to be screened is sent to the tumbler screen in a concentrated manner, and is spirally conveyed outward on the screen surface through a tumbling motion. Small particles fall from the sieve holes shortly after entering the machine, while boundary particles (particles close to the sieve hole size) that are difficult to sieve are screened out during the spiral motion due to longer residence time.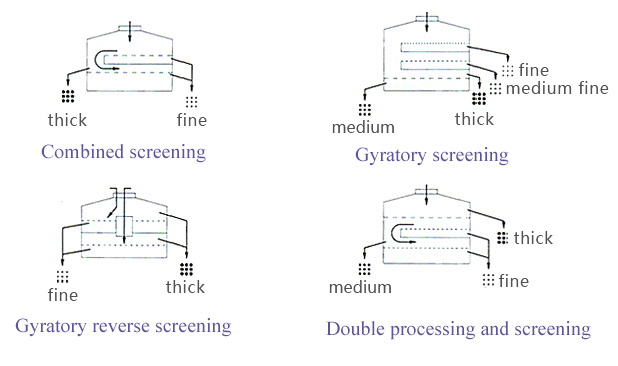 Screening method:
1. Gyratory screening: Two layers of screens with the same aperture allow the material that has been screened once to be screened again to achieve higher screening accuracy.
2. Gyratory reverse screening: The material is screened by fine→medium-fine→medium→coarse, and the coarse material plays a certain role in cleaning the mesh.
3. Double processing and screening: the materials entering the screening machine are evenly distributed on two levels, so that the processing capacity of a single screening machine is nearly doubled, and one screening machine is used as two.
4. Combined screening: ordinary screening + gyratory screening to improve the utilization rate of a single screening machine.
BENEFITS OF TUMBLER SCREEN
Sieve fine to 20μm

Mimicking manual sieving, it uses three-dimensional elliptical motion to separate very fine particles from larger particles, achieving a high efficiency of 99%.

1 to 5 decks per machine

Choose from 5 laminates to achieve 6 grades for any of your products or materials, allowing the screening and separation of mixtures of different particle sizes.

Not easy to block the sieve

Different deblinding devices can be used flexibly, such as bouncing ball, brush deblinding, ultrasonic screening, which can avoid material clogging.

Noise level around 75 decibels

The moving parts oscillate side to side instead of up and down like a vibrating screen, reducing noise levels while reducing damage to materials.

Easy to replace the screen

Quick clamps provide maximum time savings when changing screens.

Low cost

Up to 100% availability in 24 hour operation with little maintenance.
Related Videos
Screening pollen

Screening fertilizer granules

Screening flour
Tumbler Screen VS Ordinary Vibrating Screen
| | |
| --- | --- |
| Tumbler Screen | Ordinary Vibrating Screen |
| Elliptical Swing (simulates artificial) | High-speed vibrating screening material |
| no damage material | Potential to destroy material |
| Accuracy up to 95% | Accuracy 50%-95% (different materials) |
| Less wear and tear without beating | Beating the screen surface, the screen mesh is greatly worn |
Tumbler Screen Technical Parameters
Particle feed size:
1 micron up to 20 mm
Feed rates:
1kg/h – 50 ton/h
Bulk densities:
20 – 10000 grams/liter
Mesh openings:
20 microns to 20 mm
Screens usable:
304, 316L, or 430 stainless steels or plastic wire mesh fabric, perforated plates
No. of screen decks:
1 – 6 per machine
Anti-blinding systems:
– Rubber balls
– Rotating roller brush arms
– Rotating air-jet nozzle arms
– Ultrasonic
– Combinations
Speed range:
180-280 min-1
Screen movement:
Three-dimensional, set to product
Amplitude:
40-80 mm horizontally and 5-40 mm vertically
Acceleration:
1,3-1,8 g
Model sizes/ca. Ø:
600
1000
1200
1600
2000
2400
2600
Screening surface (m²):
0.292
0.785
1.13
1.83
2.63
4.52
5.31
Motor power (kW):
0.25
1.5
2.2
2.2
4
5.5
5.5/7.5
Materials:
Carbon steel, Stainless and Special steels
Surfaces:
Painted, brushed or ground, mirror or electro polished, and ViwateQ options for Food and Pharmaceutical products with a surface roughness of < 0.4 microns (GMP, FDA compliant).
Structure of Tumbler Screen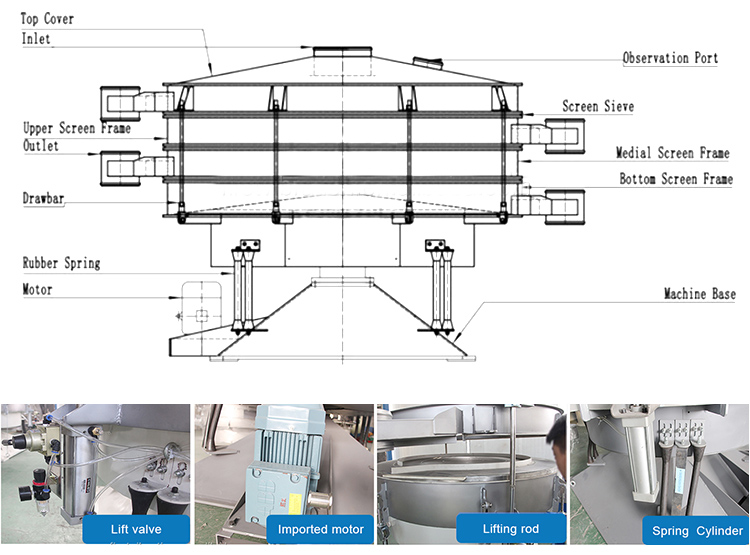 1. The direct-connected vibrating device is different from the ordinary vibrating screen. This device is connected to the motor and the transmission device through a belt, and through the reverse movement of the motor, the screen frame is put into artificial "dusting" and "kips" when passing through the transmission device. The screening is soft and does not damage the shape and characteristics of the material.
2. The design of the screen mesh prolongs the screening diameter and prolongs the residence time of the material on the screen surface, thereby improving the screening efficiency and accuracy. Compared with the ordinary vibrating screen, the screening efficiency is increased by 1-5 times, and the accuracy is increased by 90%. %-99%.
3. The mesh frame adopts a one-time forming punching design, and a trawl plate is designed in the middle to ensure that the screen mesh bears evenly and achieves the purpose of improving the service life of the screen mesh.
4. There are three kinds of net cleaning devices, namely: bouncing ball net cleaning device, rotary brush net cleaning device, and ultrasonic net cleaning device, to ensure that the screen holes will not be blocked, and users can choose according to their own needs.
5. The vibration motor is installed on the outside of the screen machine, which is more convenient for maintenance and repair in the later period.
Capacity Enhancements
Bouncing ball cleaning: Food-grade rubber and silicone balls bounce on the punching plate under the screen, bounce on the metal mesh, and reduce mesh blockage. This system is simple to use, easy to maintain, and suitable for most granular materials.
Rotary brush cleaning: The rotating brush is driven by the decelerating teeth installed on the base plate, and rotates the brush net under the screen to clean the material. It is suitable for the screening of spherical, crystalline and brittle materials.
Ultrasonic cleaning: High-frequency ultrasonic waves are transmitted to the screen, which not only cleans the screen, but also significantly improves the production capacity. It is suitable for most fine, large-volume, and difficult-to-screen materials.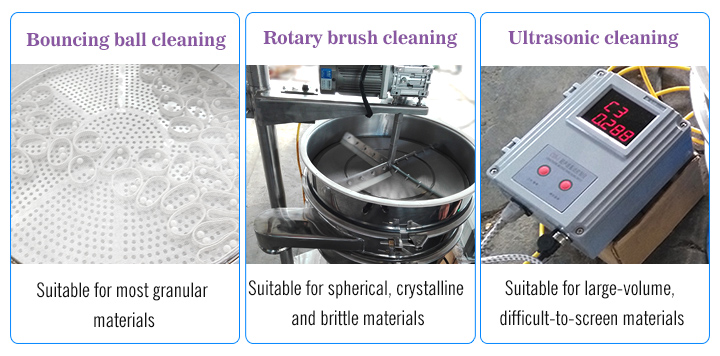 Solution Proof of our Tumbler Screen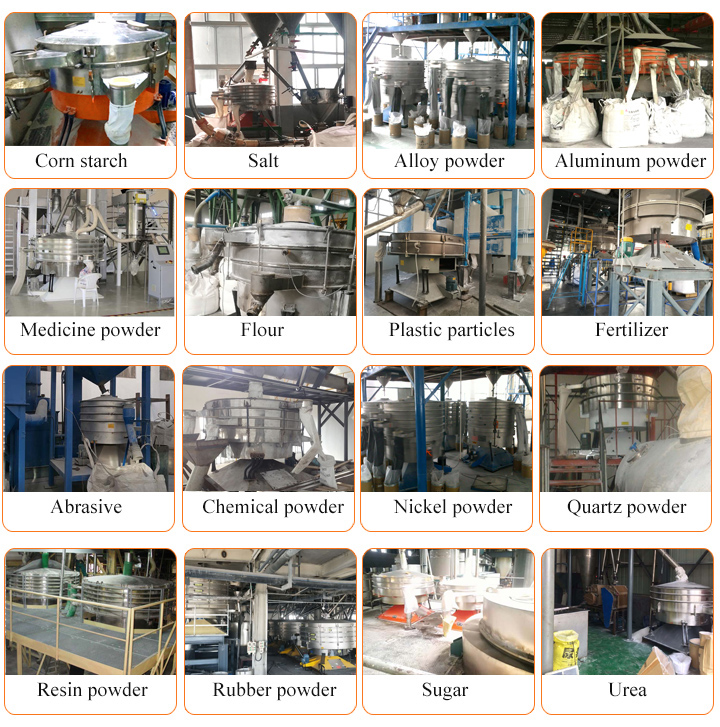 | | | | |
| --- | --- | --- | --- |
| Material | mesh | Capacity(kg/hr) | Model |
| Rubber powder | 24 | 1000 | YBS-2000-2S |
| Chili seed | 4mm | 500 | YBS-600-3S |
| Petroleum Coke Powder | 110-120 | 3000 | YBS-1500-2S |
| Notoginseng powder | 100 | 300 | YBS-600-4S |
| Quartz sand | 2-200 | 6500 | FYBS-1536 |
| rice husk | 6mm | 4.61 | YBS-2000-2S |
| Chinese medicine powder | 325 | 600 | YBS-600-4S |
| feed | 40 | 2200 | YBS-1500-2S |
| fertilizer | 2mm | 10000 | YBS-2600-1S |
Tumbler Screen Manufacturers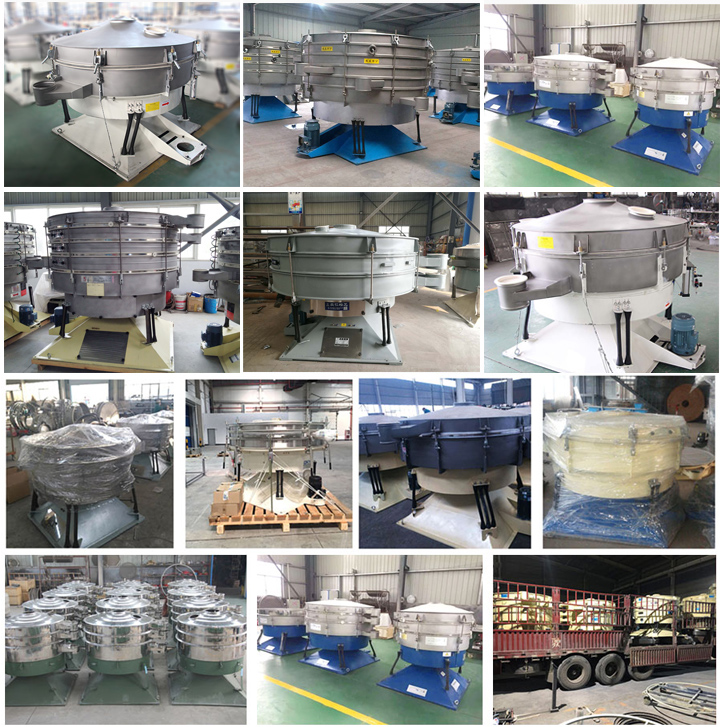 Xinxiang Dahan tumbler screen manufacturer integrates production, processing, design and installation. The main products are: round tumbler screen, square tumbler screen, ultrasonic tumbler screen, etc., which are widely used in micro powder, metal powder, non-metal powder and other micro powders and powders , screening and grading of fine powders and granules. Reliable quality, reasonable price, providing selection and customization. The equipment is strictly controlled from material selection, processing to assembly, and the processing links are strictly controlled. The company has passed ISO9001 quality certification, and strictly tests the size, appearance, and function. Fully refundable.
Products Related to This Item