Introduction of Filter Sieve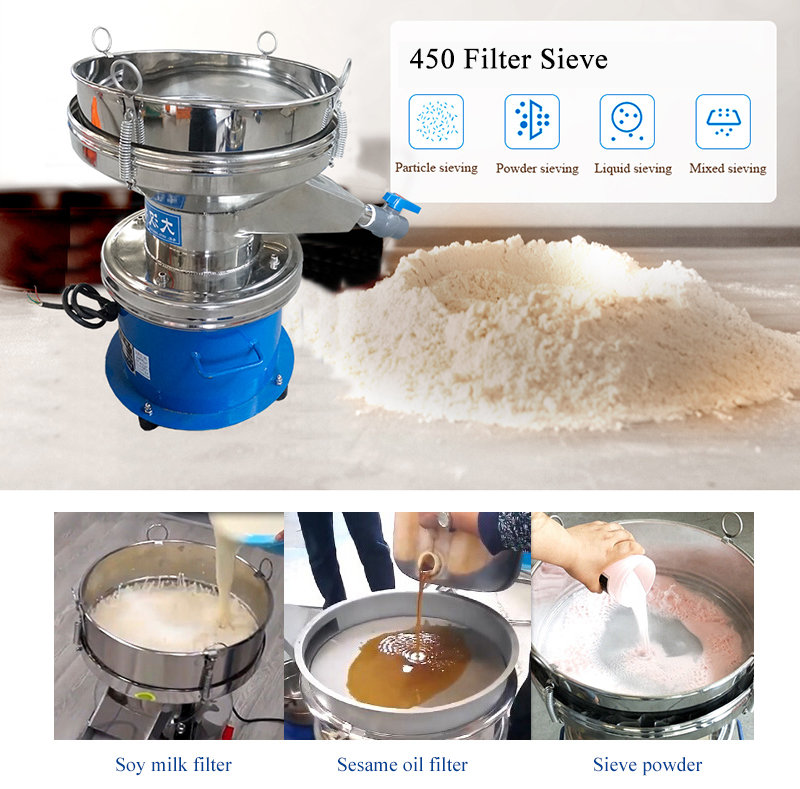 450 filter sieve, also called vibrating filter sieve, is a small vibrating filter sieve with low noise, high efficiency and easy to move. Screening down to 400 meshes is widely used in food, medicine, chemical industry, abrasives, coatings and other industries.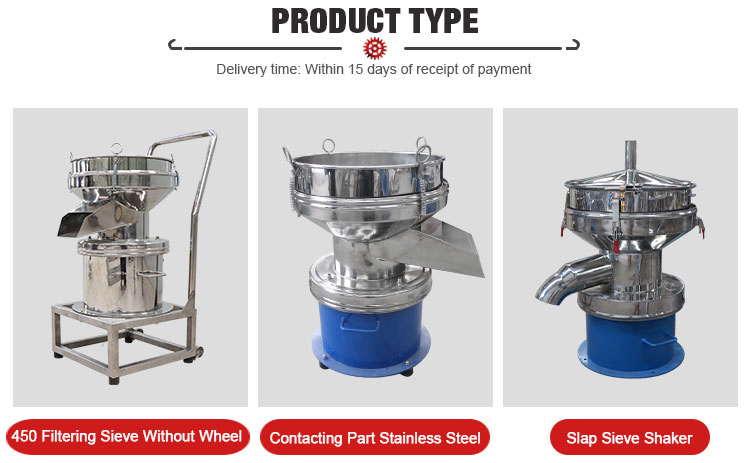 Application of 450 Filter Sieve
Filter sieve machine is used to eliminate or separate unwanted suspended solid particles in liquid products, suitable for various liquid applications, such as soy milk, liquid chocolate, paint, syrup, paint, oil, etc. Paint is suitable for powder or slurry with low impurity content. For example: powder sieving and slurry filtration with large particle content; 325 mesh filtration of spray paint with a specific gravity of 1.1 can reach 1200 liters per hour, and 30 mesh sieved flour can process 700 kilograms per hour.

Related Videos
Filtered soy milk

Sieving flour

Filter latex paint
Benefits of 450 Filter Sieve
Powder/Liquid Filtration

It is suitable for processing powder and liquid, and can filter out the oversized pollution area in the product, and the sieve mesh can reach 400 mesh.

Fast discharge

The special inlet and outlet gates make the cloth more uniform and the discharge capacity is large, and the processing capacity per hour can reach 1200kg/h.

Screens are easy to replace

The V-type pressure screen is used to prevent the screen, and the replacement of the screen is very convenient and fast, and it only takes 3 to 5 minutes.

Easy to place

The compact, space-saving model can be fitted with casters on the bottom for easy movement around the factory when needed.

Weldless joint

All welded joints are seamless, ensuring no material deposits and no leakage.

Waterproof and dustproof

The motor is waterproof and dustproof, and the motor is installed with a waterproof cover to prevent the motor from getting wet.
Technical parameters of Filter Sieve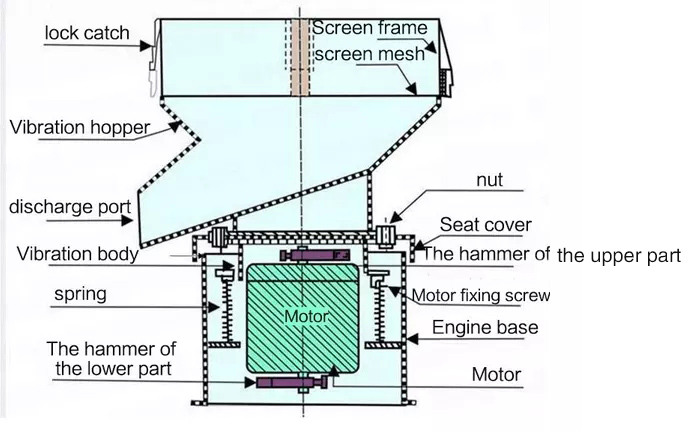 Model
Power
(kW)
Whole machine size
(mm)
Sieve body size(Diameter*Height)
(mm)
Weight
(kG)
Description
DH-450
0.18
500*500*600
488*135
40
The seat material is Q235 high quality carbon steel, stainless steel can be selected according to needs
DH-450s
(With mobile trolley)
500*500*1000
48
Filter Sieve Special Customization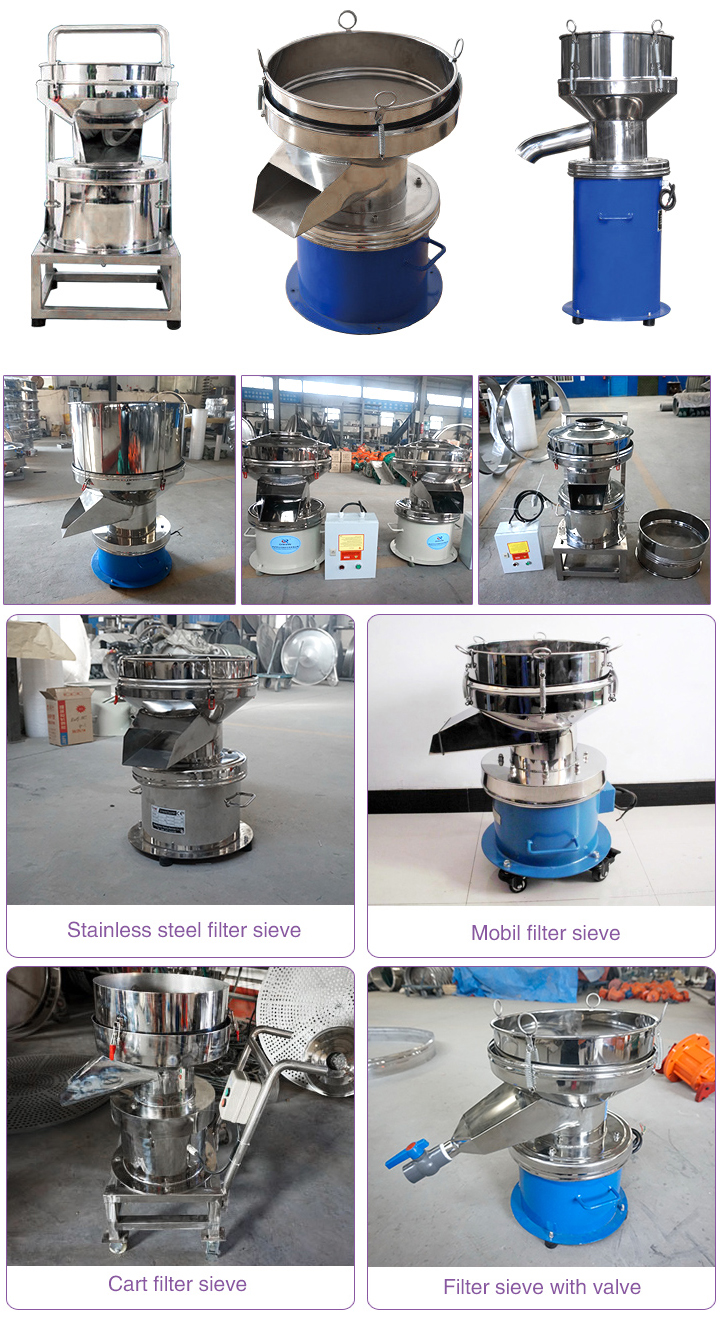 Structure of Filter Sieve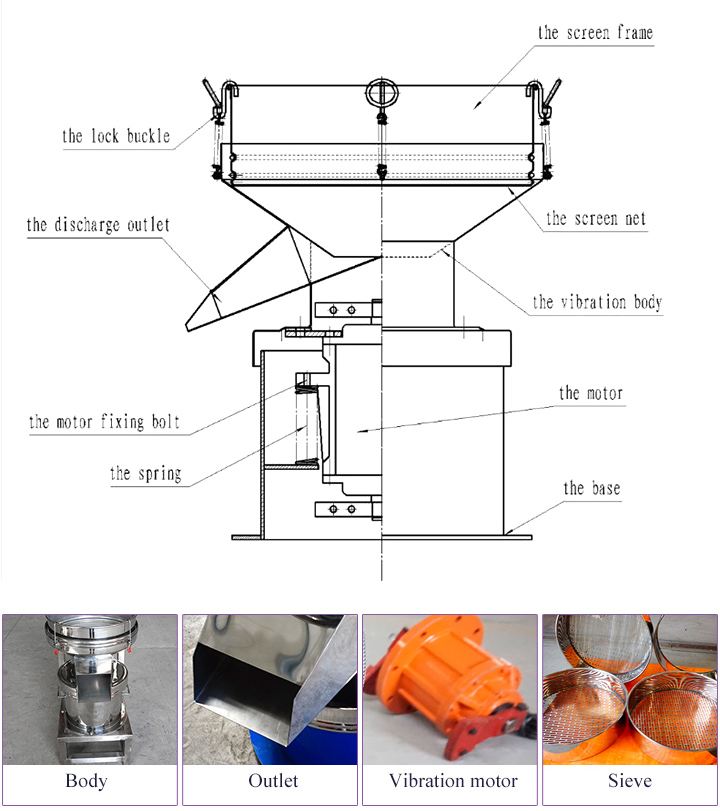 450 filter sieve consists of machine body, vibration motor, outlet hopper, sieve griddle-control device.
Body: The filter sieve is made of high-quality stainless steel, rust-proof and corrosion-resistant, and has a compact and sustainable design.
Discharge port: wide discharge port to ensure rapid discharge without clogging.
Vibration motor: The 50W powerful vibration motor has no mechanical transmission, so that there is no loss in the transmission process of the exciting force and the efficiency is maximized.
Sieve: According to your needs, it can be adapted to different sieve sizes. The 40-mesh sieve is suitable for sieving flour, and the 60-mesh sieve is suitable for sieving powder.
Dust-proof cover: The cover can be selected to seal it, which greatly enhances the sealing performance and prevents the powder from splashing during shaking.
General requirements
Diameter Size(mm)
400/800/1000/1200/1500/2000
Number of Layers(L)
1
Main Material
Stainless Steel(304/316L)•Carbon Steel(Q235)
Screen Mesh Number
5-500
Sealing Strip
Silica gel / Rubber
Special requirements
Overall height of the fuselage
Please communicate specifically
Feed inlet
Angle / Size and so on
Outlet
Angle / Size /Add valve
Observation port
Silicone cover / Rubber cover / Glass cover
spring
You can choose whether to add a silicone protective cover
Internal spray(mm)
PTFE / ePTFE / WC / Al2O3
Equipment surface treatment
Polishing / Sandblasting
Body metal material requirements
For example: require no Cu and Zn (except electrical parts)
Vibration motor
Ordinary motor / Explosion-proof motor
other
Can be customized
Proof of Solutions for Our Wide Range of Products
Customer case:
325 mesh filter spray paint with a specific gravity of 1.1 can reach 1200 liters per hour
30 mesh sifted flour can process 700 kg per hour
250 mesh filter interior wall paint can reach 1.5 cubic meters per hour.
450 filter screen is also used in fast food restaurants and chain distribution centers, flour and bread flour screening and impurity removal, fruit and vegetable juice, and soy milk filtration in fast food restaurants and chain distribution centers.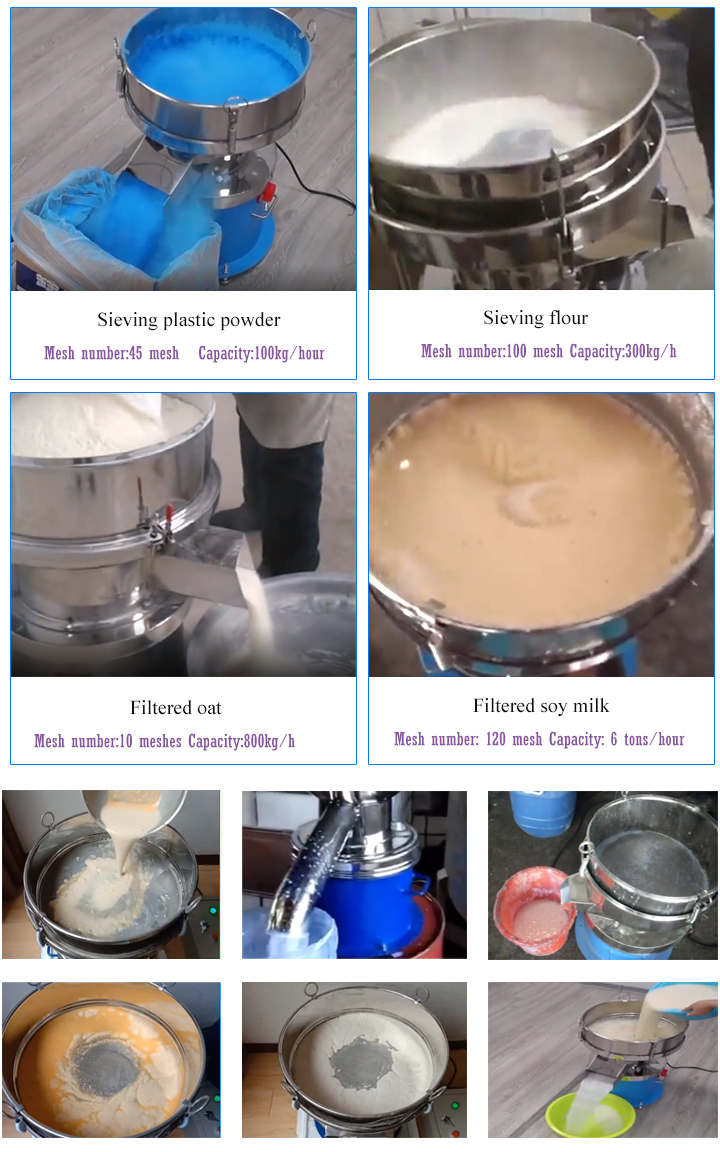 Reference for screen mesh size
Powder
Flour--30 mesh, plastic powder--70/80 mesh, plastic granules--35 mesh/45 mesh
Liquid
Spray paint -- 325 mesh, paint -- 280 mesh, soybean milk -- 120/160 mesh, pigment -- 400 mesh, paint -- 300 mesh, lime slurry -- 240 mesh, styrene-acrylic emulsion -- 200 mesh
450 Filter Sieve Manufacturers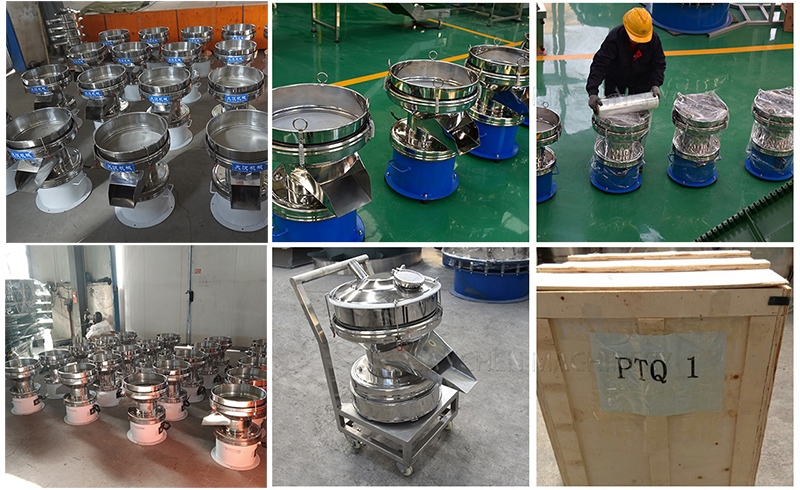 Xinxiang Dahan 450 filter sieve manufacturer specializes in providing material screening and filtration solutions. 450 vibrating filter sieve is widely used in food industry, chemical synthesis industry, plastic industry, resin industry, pharmaceutical industry, paint and coating industry, ceramic industry, metal powder, Paper industry, etc., our products can be customized according to actual application needs, such as trolley type, heightened type, mobile type, etc. Direct-selling manufacturers, with low prices and guaranteed quality, the manufacturers have obtained ISO and CE quality certification, and at the same time provide product returns within 365 days, quality problems are fully refunded and freight reimbursed.
Q: Which screening equipment is better for soy milk filtration?

A: The soy milk filter shaker is mainly to filter the soy milk more delicately. It is recommended that you use a small 450 filter sieve, which is convenient and fast.
Q: Can the filter sieve be fully sealed?

A: Yes, it is necessary to seal the connection between the screening machine and the on-site pipeline, and to seal all parts of the filter sieve.
Q: What is the real delivery time of your factory?

A: 10 to 15 days for general series products,meanwhile,customized products would need 20 days to 40 days based on different situations.
Q: How do you ensure the quality of your products?

A: Generally,our equipment are the most durable type in the industry,this is also the feature of the label impression of DH for most of our customers at home or abroad.However,we do recognized that there do have small amount of the product which may got faulty or damaged for different reasons.
Q: How do you after-sale service work if the product got damaged?

A: In the guarantee time 12 months,our general after sale serve.
Recommend Product