What is Auger Feeder?
Auger feeder is specially designed and manufactured for the plastic and powder production and processing industries. The part in contact with the material is made of stainless steel. It can be used with various specifications of extruders, high-speed mixers, and plastic mixers. It is widely used in various powders. , Feeding of granular, recycled and crushed materials.

Auger feeder can transport powder and granular materials horizontally, inclined and vertically. The feeding size is less than 5mm. The silo and conveying pipe are made of stainless steel (the material can be customized according to customer requirements) to ensure that the raw materials are completely pollution-free during the conveying process. The pipeline adopts a closed design, which can effectively prevent dust, and can effectively isolate materials with high hygiene requirements or strong odor. It has the characteristics of uniform feeding, good sealing, and no dust pollution.

Product Display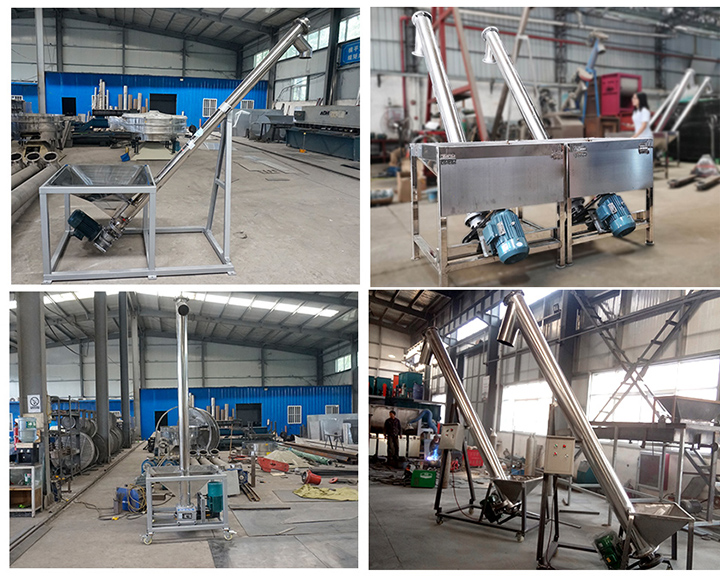 Types of Auger Feeder
| | | | | | |
| --- | --- | --- | --- | --- | --- |
| Type | Shaftless Auger Feeder | Stainless Steel Auger Feeder | Twin Auger Feeder | Water-cooled Auger Feeder | Mobile Auger Feeder |
| Image | | | | | |
| Capacity | No center pipe eliminates the build-up of sticky materials | Corrosion resistant, high temperature resistant, clean and hygienic, not easy to rust, special for food and pharmaceutical industries | It can crush and agitate materials, and the conveying capacity is larger than that of single shaft auger conveyor | Equipped with a water cooling system, the maximum temperature of the feed material can reach 720℃, and the discharge temperature can reach 50℃ through the cooling water flowing in the spacer and the central spiral pipe. | A universal wheel is installed at the bottom, which is convenient to move, and is suitable for unfixed position transportation operations such as bulk material loading. |
| Capacity | 458m³/时 | 244m³/h | 458m³/时 | 6m³/h | 199m³/h |
| Length | 15 meters | 2-70 meters | 2-70 meters | 25 meters | 2-70 meters |
Working Principle of Auger Feeder
After the product is conveyed to the shell of the auger feeder through the feeding port, it is subjected to the centrifugal force and the frictional force of the pipe wall in the inner spiral groove, rotates with the spiral blade, and slides down the spiral groove under the action of gravity, so that the The material is continuously pushed forward and conveyed, and finally evenly discharged from the discharge port.
Benefits of Auger Feeder
Controllable feeding volume

The feeding motor and the vibration motor are individually switchable to control the vibration amplitude. The system has a time relay. The time is set according to the set amount each time to control the feeding amount.

Reversible conveying

The direction of conveying materials is reversible, and materials can be conveyed in two directions at the same time. During the conveying process, processes such as mixing, stirring, loosening, heating and cooling can also be completed.

Clean and hygienic

The silo and conveying pipe are made of stainless steel (materials can be according to customer requirements) to ensure that the raw materials are completely pollution-free during the conveying process.

No dust pollution

The conveying pipeline is designed to be closed, which can effectively prevent dust, and can effectively isolate those materials with high hygiene requirements or materials with high odor.
Related Videos
Auger feeder for flour

Rice bran auger feeder

Auger feeder for plastic powder
Auger Feeder Specifications
Model
Diameter
(mm)
Pitch
(mm)
Rotating speed
(r/min)
Capacity
(m³/h)
Rotating speed
(r/min)
Capacity
(m³/h)
Rotating speed
(r/min)
Capacity
(m³/h)
Rotating speed
(r/min)
Capacity
(m³/h)
Small
100
100
100
140
2.2
112
1.7
90
1.4
71
1.1
125
125
125
125
3.8
100
3
80
2.4
63
1.9
160
160
160
112
7.1
90
5.7
71
4.5
56
3.6
200
200
200
100
12.4
80
9.9
63
7.8
50
6.2
Small
250
250
250
90
21.8
71
17.2
56
13.6
45
10.9
315
315
315
80
38.8
63
30.5
50
24.2
40
13.4
400
400
355
71
62.5
56
49.3
45
38.6
36
31.7
Large
500
500
400
63
97.7
50
77.6
40
62
32
49.6
630
630
450
50
138.5
40
110.8
32
88.6
25
69.3
800
800
500
40
198.5
32
158.8
25
124.1
20
99.3
About Customization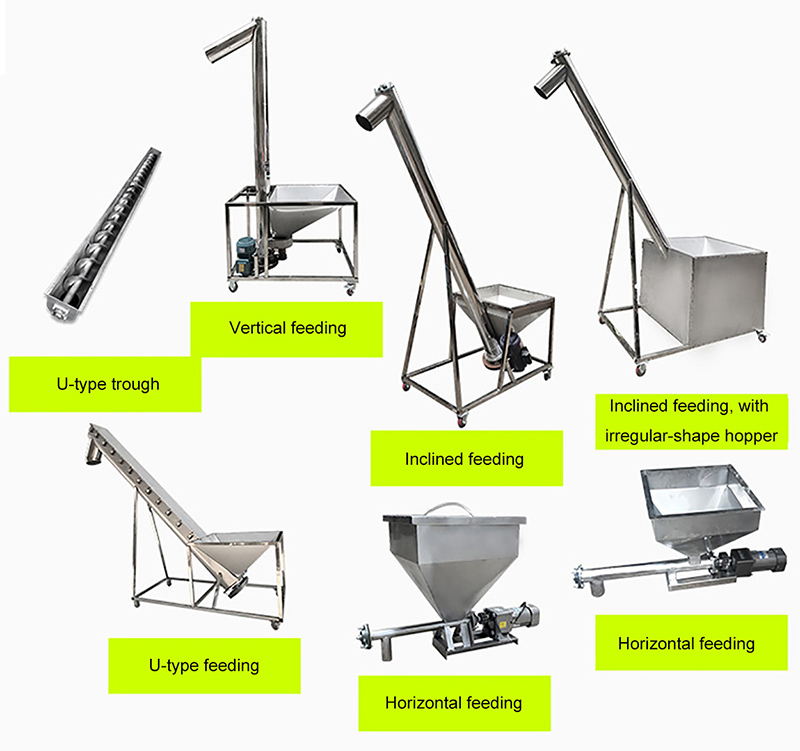 In addition to the above parameters, if there are other requirements for the auger feeder, for example: the machine needs 304 stainless steel, or needs two conveying ports, or needs a universal wheel, or needs a discharge port feeding pipe at the bottom, or needs an anti-blocking switch , or other special designs, etc., please contact us.
Structure of Auger Feeder
Auger feeder structure consists of: motor, reducer, sprocket, chain, coupling, main shaft, spiral blade, hanging bearing, housing, etc.
The connection method is divided into: (direct connection type, chain type).
The shape is divided into: (tube type, U type).
Conveying method: (with shaft, without shaft).
The specifications of this product are (tube type, U type) (single shaft, no shaft), shell blade material: carbon steel, stainless steel. According to the particle size, conveying volume and conveying distance of the conveyed material, reasonable selection and design can be made to achieve no jamming, no arching, and smooth discharge. Parameters and drawings are provided free of charge.
The above parameters are for reference only, we can choose and design for you free of charge according to the working conditions, please consult Dahan Machinery for details.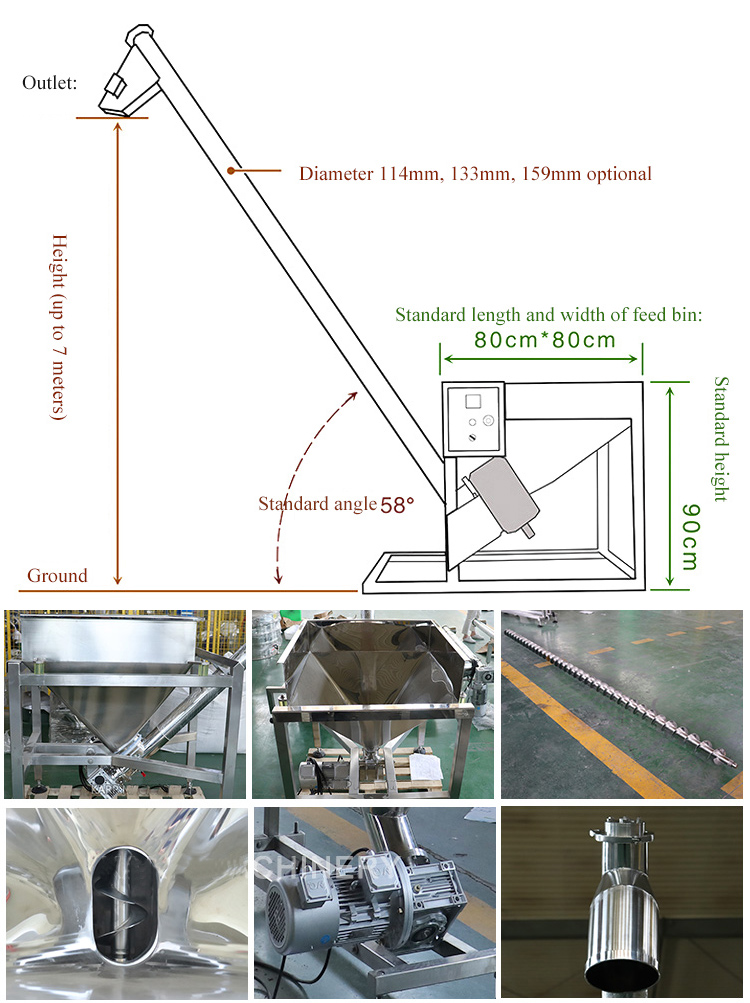 Auger Feeder Companion Equipment
Auger feeder can be configured with dosing packaging machines, mixers for continuous or batch operations where granular, powder, viscous or adhesive type materials need to be fed, the feeding height is determined by user requirements and working space, the machine can move freely , Fast feeding and feeding, automatic feeding and automatic stop.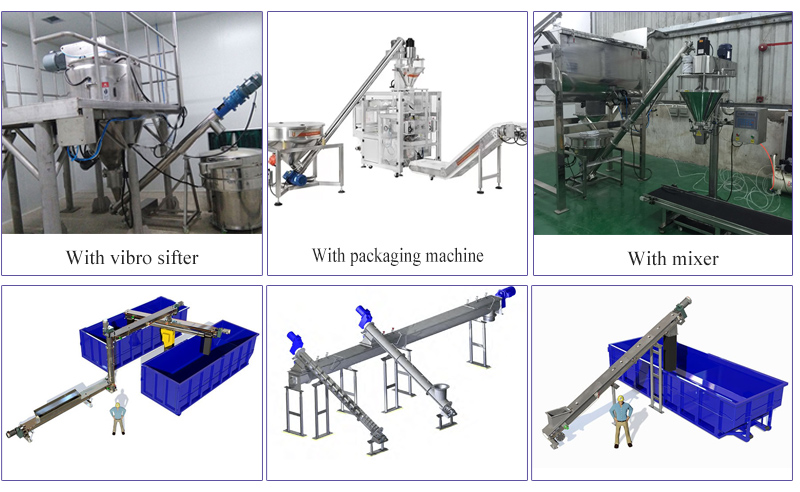 Application of Auger Feeder
Auger feeder is used to feed non-sticky powdery, granular and small particle materials from silos and other storage equipment to the receiving equipment evenly. It also has the functions of conveying, sealing, homogenizing and mixing. It is a cement raw material. Material homogenization, commonly used equipment in silo sealed feeding, suitable for building materials, metallurgy, chemical industry, electric power, food and other industries.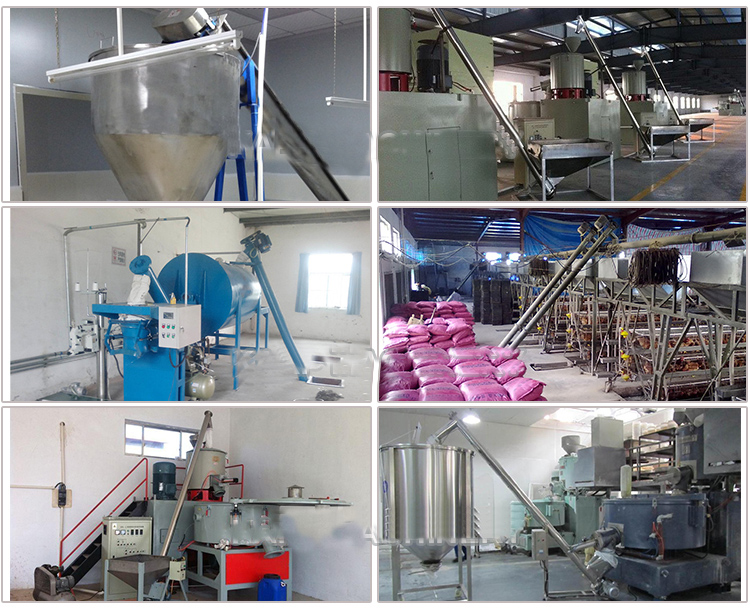 Diameter(mm)
150
200
250
300
400
Coal Powder
Maximum speed(r/min)
112
100
900
80
70
Maximum delivery volume(m3/h)
8
14
24
34
64
Cement
Maximum speed(r/min)
90
75
75
60
60
Maximum delivery volume(m3/h)
3.5
6.7
13.3
8.3
43.5
Proof of Solutions for Our Wide Range of Products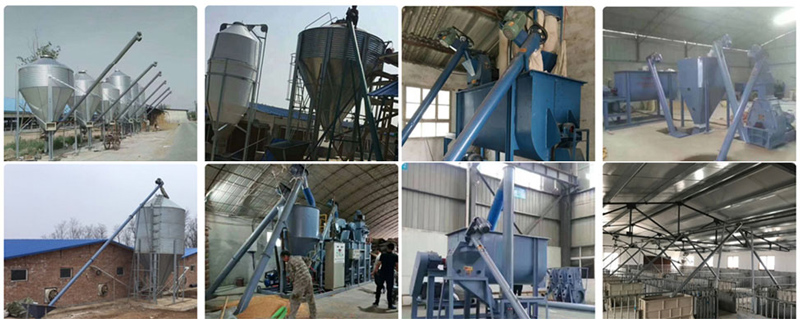 1. Food industry
It can be used alone to complete the conveying task, or it can be used together with the vibrating screen, packaging machine and other equipment to form a perfect conveying production line.
2. Chemical industry
It can help chemical raw materials to be blended evenly, thus saving a process of chemical fertilizer bagging.
3. Wastewater treatment
Generally, auger feeder is used to transport sewage and sludge to the treatment plant for treatment. For materials with strong viscosity and strong entanglement, it is also necessary to adopt a design without a central shaft, which can prevent the materials from sticking to the spiral blades and affecting the conveying efficiency.
4. Building materials industry
Combined with cement silo, cement weighing hopper, etc. to form a cement supply system, it can be used for cement powder transportation in mixing stations..
Auger Feeder Manufacturers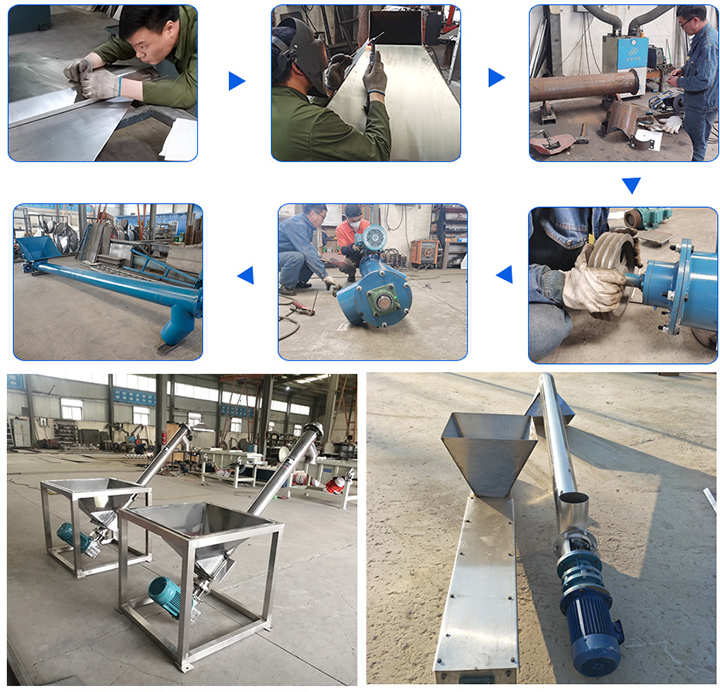 Xinxiang Dahan auger feeder manufacturer specializes in making auger feeders, with all models, low price of auger feeders, factory direct sales, 1 year warranty, fast customization and free selection to provide drawing parameters. From design, drawing, modeling, processing, quality inspection, assembly, test machine, painting, delivery and other one-stop services, we have machining workshops (lathes, milling machines, boring machines, drilling machines), assembly workshops, painting workshops, warehouses, etc.
Screw feeder customers provide the following parameters before purchasing
auger feeder manufacturers select and design according to the parameters you provide. We have 15 years of experience in design and production, and the product quality is good.
1. If you are replacing, you need to provide flange (round or square), flange (outer diameter, inner diameter, flange hole distance), distance between inlet and outlet, whether it is tubular, U-shaped, shaftless, etc. If it is a new installation, you can ignore these parameters, and you can do it according to our size during installation.
2. It is necessary to provide some parameters such as installation conditions, material name, material particle size, whether the material has hardness, whether the material has viscosity, material temperature, import and export distance, and the conveying volume you need. You need, to ensure that you use it comfortably and with confidence.
Recommend Product