What is Vibro Sifter?
The Vibro sifter is specially designed to improve the quality of your powder, granule or liquid products for inspection screening of your products, it is ideal for screening incoming ingredients and final production inspection of finished powders, by increasing the number of sieve layers, The product is sieved with different finenesses to achieve precise particle size distribution.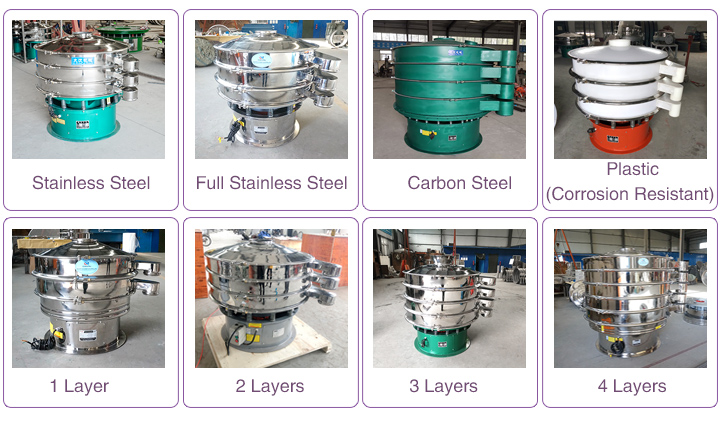 Vibro Sifter has 1-layer, 2-layer, 3-layer, 4-layer and 5-layer sieve plates, it is suitable for sieving from 2 to 500 meshes, and the products can be classified into 2-6 different specifications through different meshes , and eliminates excessive contamination in various applications. Machine contact parts are made of Q235 carbon steel, SS316L, SS304 stainless steel, etc. Interchangeable screens can be provided according to user requirements, providing various sizes from 400 mm to 2000 mm diameter, allowing 100 to 5,000 kg/hour of production, It depends on the product, mesh size and the feed flow of the machine.
Uses of Vibro Sifter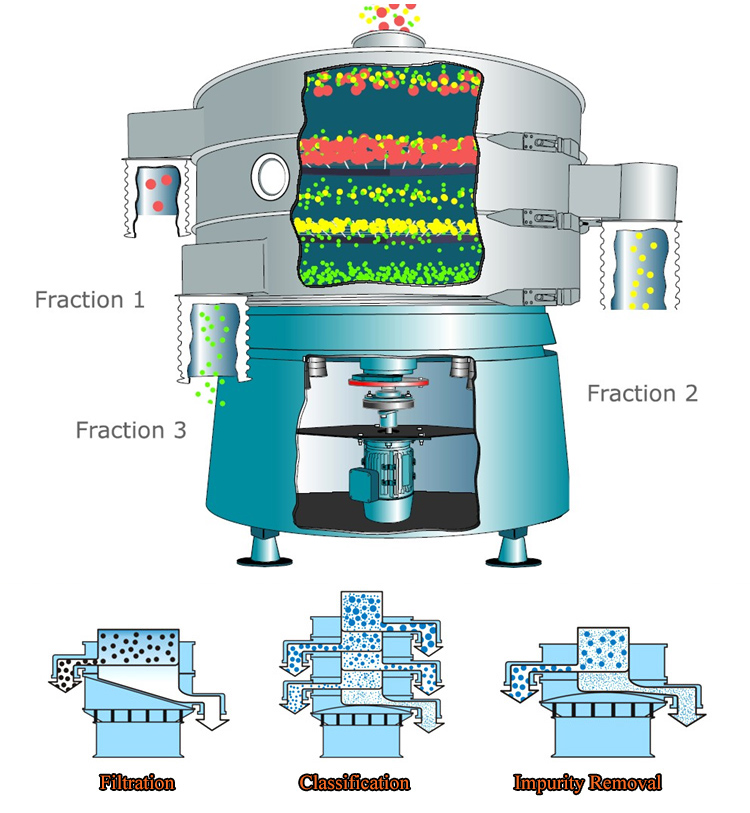 Classification and screening: Divide the solid particles into different particle groups of equal size. A vibro sifter can accurately and continuously classify 2-6 kinds of specifications at the same time, which is suitable for the classification of granular and powdery materials in multiple industries.
Removal of impurities: Quickly remove small or large particles with a low percentage.
Solid-liquid separation: It can quickly remove insoluble substances in various types of slurries. It can filter up to 100 cubic meters per hour. It is suitable for filtration of liquids such as ceramics and pigments.
Types and Classifications of Vibro Sifter
Ordinary Vibro Sifter

Can be used to remove broken or undersized products, provides up to 5 levels of classification in one operation for precise particle size distribution, and sieves up to 500 mesh.

Mesh size(mesh):2-500

Capacity(kg/h):100-3300
Ultrasonic Vibro Sifter

Prevent mesh blinding and blocking of your mesh with ultrasonic system, which increases screening capacity by a factor of 10, increasing productivity while allowing separation accuracy down to 20µm (#635 mesh).

Mesh size(mesh): 635

Capacity(kg/h):100-5000
Inline Vibro Sifter

It is very suitable for screening feed ingredients and final production inspection of finished products. The inlet and outlet ports are designed in the same vertical direction, the discharge speed is fast, and the output is 2-5 times that of ordinary vibro sifter.

Mesh size(mesh):140

Capacity(kg/h):3000-30000
Filter Sieve

It is used for contaminants or insoluble solids in powders or liquids, generally single-layer. Compa red with ordinary vibro sifter, the screen frame is designed to be heightened to prevent liquid splashing during the screening process.

Mesh size(mesh):400

Capacity(kg/h):400-1200
Working Principle of Vibro Sifter
Vibro sifter uses a vertical vibration motor as the excitation source, through the eccentric weights at the upper and lower ends of the vibration motor, the rotary motion is converted into horizontal, vertical and inclined three-dimensional motion, and transmitted to the screen surface, and the material enters the equipment through the feeding port Inside, according to different screening requirements, the materials pass through 1-5 layers of sieves with different meshes. During this process, the bouncing balls under the sieves of each layer continuously hit the sieves, so that the materials can be smoothly Screening, and effectively prevent the material from clogging the sieve hole, the material close to the screen aperture is sieved through the screen, which is under the screen, and the material larger than the screen aperture is discharged from the discharge port of this layer, which is the under screen, complete the purpose of screening or filtering.
Technical Parameters of Vibro Sifter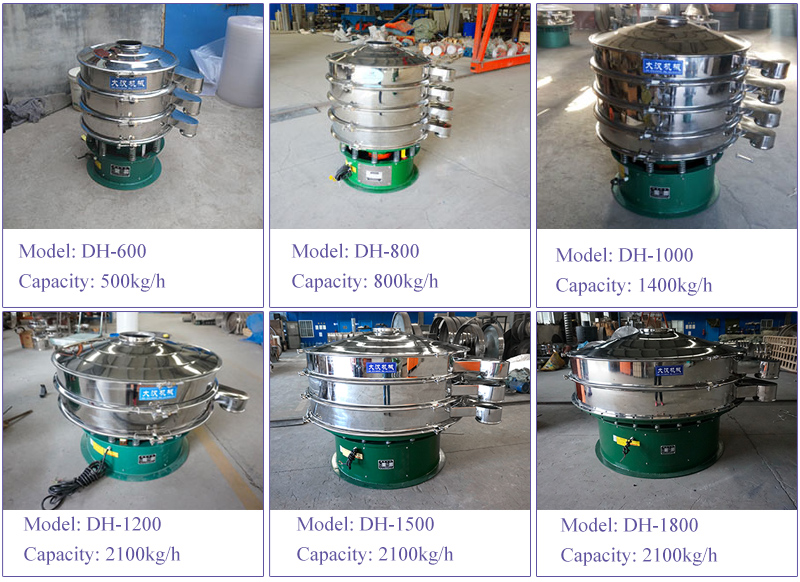 Model
Diameter
(mm)
Feeding Size
(mm)
Frequency
(RPM)
Layers
Power
(kw)
Capacity
(kg/h)
DH-400
400
<10
<1500
1-5
0.18
100
DH-600
600
0.25
200
DH-800
800
0.55
500
DH-1000
1000
0.75
800
DH-1200
1200
1.1
1200
DH-1500
1500
1.5
1800
DH-1800
1800
2.2
2000
For example: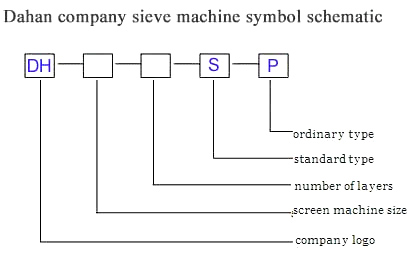 DH-1000-3S: 3-layer vibro sifter with a grid diameter of φ1000mm, and the part in contact with the material is made of SUS304 stainless steel.
DH-1000-3P: 3-layer vibro sifter with a grid diameter of φ1000mm, and the part in contact with the material is made of Q235A carbon steel.
In addition: The base of the standard model (also called bottom bucket or base) is made of Q235A carbon steel, and the bottom bucket of SUS304 stainless steel can be customized.
Customization
| | | |
| --- | --- | --- |
| Special Design | Features | Photo |
| Edged type | The specially designed flanged type increases the feeding amount, prevents the material from splashing, and is easy to observe the mesh. | |
| Gate type | There is a gate-type design for the treatment of special materials to extend the screening time of difficult-to-screen materials and increase the processing capacity. | |
| Anticorrosive | The part in contact with the material is made of polypropylene (PP plastic), which is a screening solution for corrosive materials such as carbon steel and stainless steel. | |
| Explosion-proof | The whole machine has better sealing performance and adopts BZDL explosion-proof vertical vibration motor to meet the higher requirements of special industries. | |
| Silo type | No manual feeding is required, and the flow of materials can be controlled | |
Structure of the Vibro Sifter
Vibro sifter is composed of dust cover, screen frame, screen, net frame, net cleaning device, motor (vibration source), shock absorption spring, base and other parts.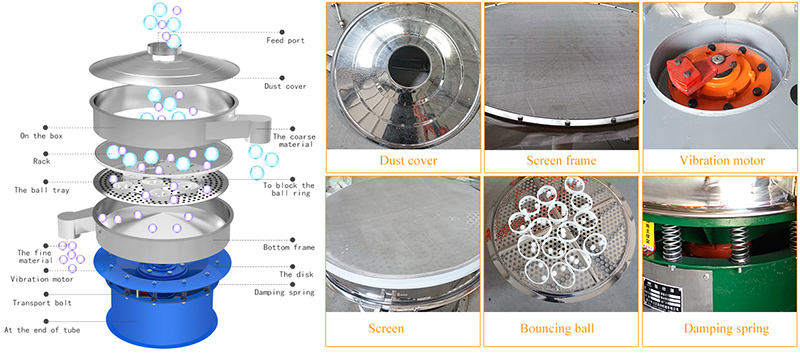 Dust cover: It is composed of a feed inlet and an oblique cone, and its lower end is connected with the screen frame to prevent the dust in the workshop from falling into the material when the vibro sifter is working. The commonly used materials are stainless steel, carbon steel, and plastic. Etc. 3 kinds of materials.
Screen frame: It is composed of steel plate coiled and welded, and its upper and lower ends have a bearing ring, and a flange ring is arranged inside the lower part to fix the structure of the screen components.
Vibration motor: vertical vibration motor, divided into four specifications of 2, 4, 6, 8, and level, the vibration times are 2870, 1460, 980, 740RPM respectively, and can be designed as explosion-proof type (flammable and explosive occasions)
Screen: Models are φ600, 800, 1000, 1200, 1500, 1800, etc. The materials are stainless steel, carbon steel, and plastic.
Mesh cleaning device: clean the blocked materials in the screen mesh holes to increase output. It is made of silica gel and rubber. Ultrasonic cleaning device (635mesh) can also be selected.
Damping spring: There are 12-20 vibration isolation springs along the vibration transmission body. The base is made of steel coil welding. There is an inspection door and an electrical switch seat on the base wall. The upper part of the base wall is welded with a ring flange, and this flange is connected with the vibration transmission body by a vibration isolation spring.
In order to make it more convenient for you, you can compare the following table to clear your machine configuration
General requirements
Diameter(mm)
400/800/1000/1200/1500/2000
Number of Layers(L)
1-5(Suggest ≤ 3)
Main Material
Stainless Steel(304/316L)•Carbon Steel(Q235)•PP
Screen Mesh Number
100-635
Transducer Installation Method
Built-in / External
Sealing Strip
Silica gel / Rubber
Special requirements
Overall height of the fuselage
Please communicate specifically
Feed inlet
Angle / Size and so on
Outlet
Angle / Size /Add valve
Observation port
Silicone cover / Rubber cover / Glass cover
spring
You can choose whether to add a silicone protective cover
Internal spray(mm)
PTFE / ePTFE / WC / Al2O3
Equipment surface treatment
Polishing / Sandblasting
Body metal material requirements
For example: require no Cu and Zn (except electrical parts)
Vibration motor
Ordinary motor / Explosion-proof motor
other
Please click here to contact us
Customer site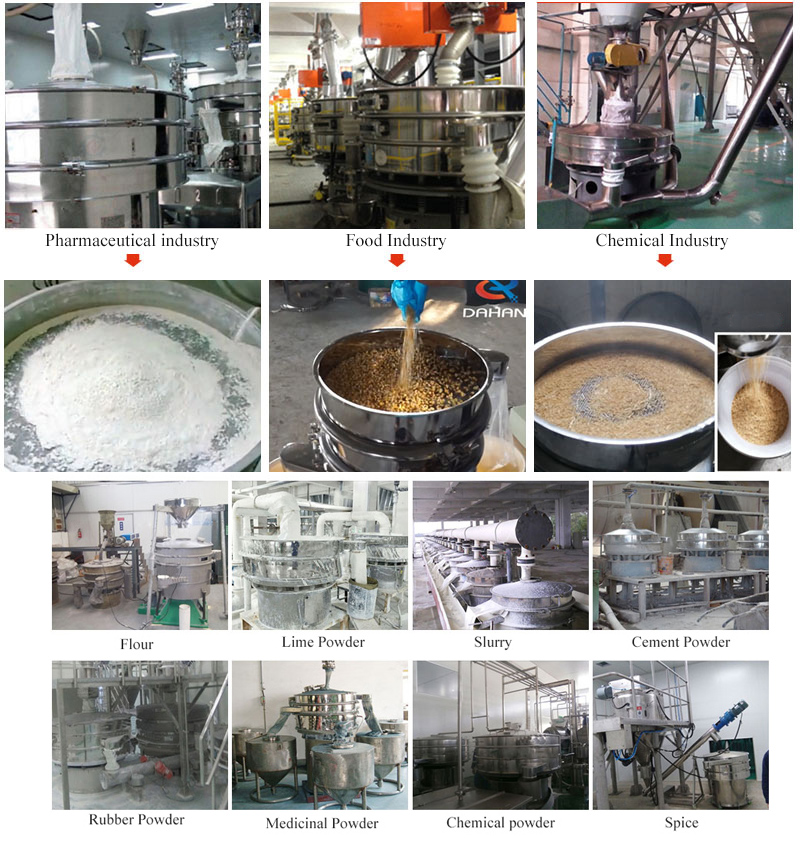 | | | | |
| --- | --- | --- | --- |
| Material | mesh | Capacity(kg/hr) | Model |
| flour | 24 | 1500 | DH-1000-1S |
| medicine powder | 80 | 550 | DH-800-1S |
| salt | 30/80 | 5000 | DH-1500-1S |
| aluminum powder | 80/120 | 350 | DH-800-2S |
| soy sauce | 100 | 6500 | DH-1200-1S |
Customer Visits

Vibro Sifter Manufacturers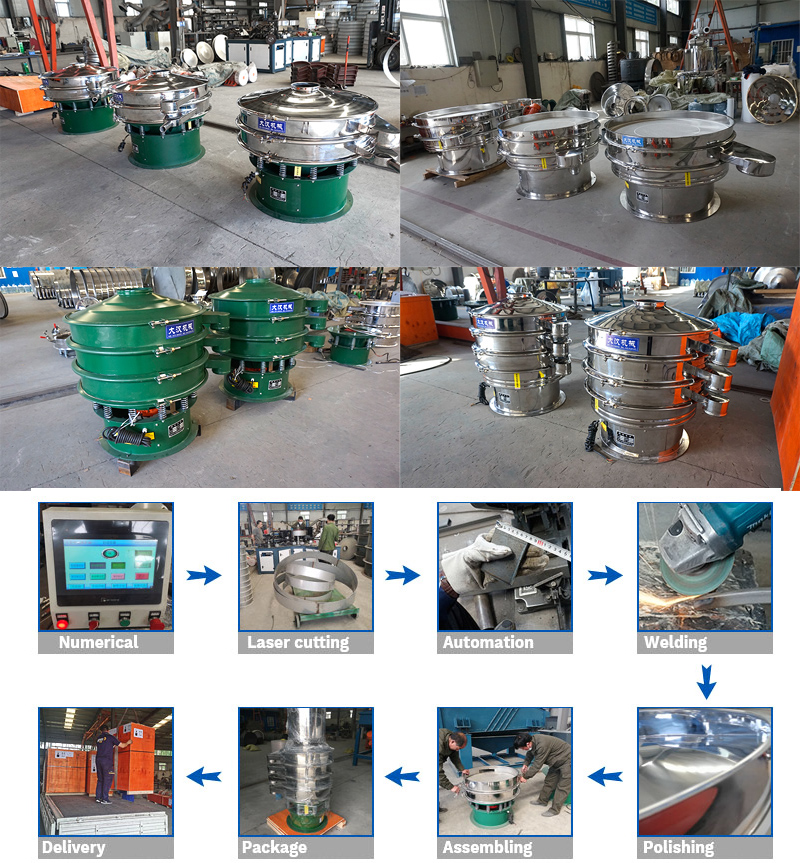 Xinxiang Dahan vibro sifter manufacturer has accumulated nearly 15 years of experience in the screening industry, and has accumulated a certain amount of experience in the solutions to many material screening problems. It has won ISO9001 certification and EU CE certification, and vibro sifter has obtained "three-dimensional" Registered trademark, 30-day product quality assurance, 1-year warranty, during which the loss caused by quality will be repaired by Dahan free of charge. The company has a dedicated production team, assembly team, logistics tracking team, a complete set of project drawings, which can be quickly issued within 2 hours, without subcontracting steps, shortening the construction period, reducing rework, standard parts stock in stock, and 7 working days for special customization, The supply is fast and the cycle is guaranteed.