What is Pharmaceutical Vibro Sifter?
Pharmaceutical vibro sifter is specifically used in the pharmaceutical industry to remove any oversized contaminants (such as some packaging, a piece of personal protective equipment or foreign matter that may be inherent in the material) from pharmaceutical powders or pharmaceutical granules that may accidentally enter the production line, whether it is API Pharmaceutical vibro sifter is inseparable from the removal of impurities, grading of powder granules, powder removal of tablets, standardization of particle size of capsules, filtration of injections, and selection of traditional Chinese medicine powder.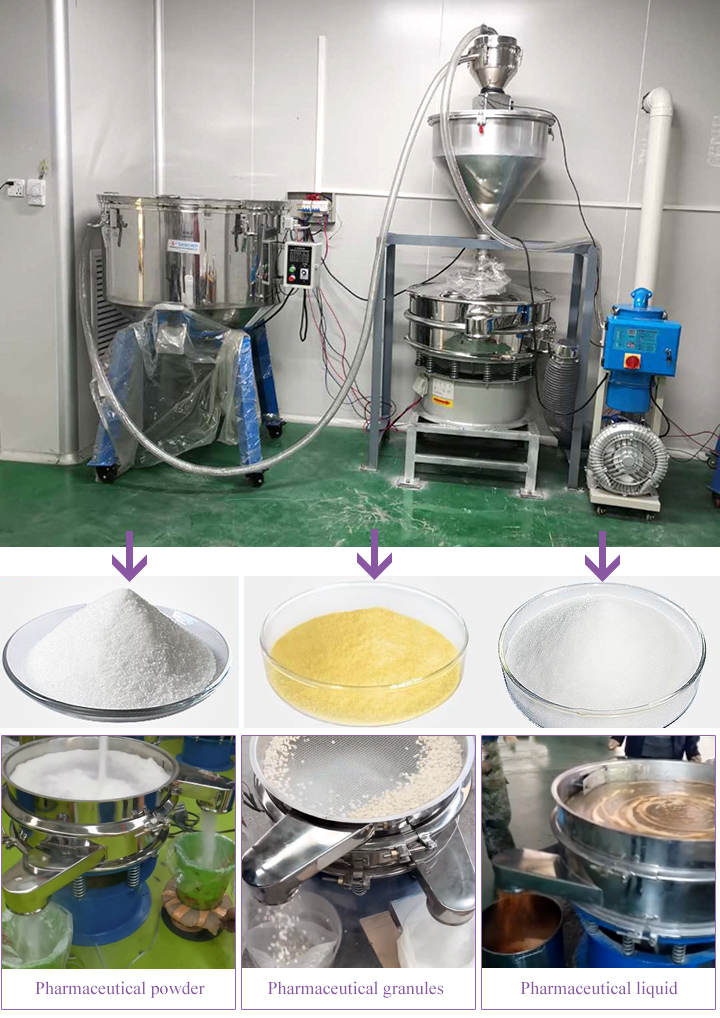 The Pharmaceutical vibro sifter is made of pharmaceutical grade SUS304 or 316 stainless steel. The surface finish of the machine inside and outside is 0.1-0.2 RA, which makes the cleaning of the machine very easy, ensuring no material deposition and zero chance of material contamination, preventing contamination and providing dust-free operation. The closed construction prevents leaks and helps keep the screening material safe from external interference.
Function of Pharmaceutical Vibro Sifter
Pharmaceutical vibro sifter has two main uses - safety screening and grading.
1. Safety Screening: Sometimes referred to as Control Screening or Safety/Inspection Screening of powders, is to ensure the correct product quality of powders. Basically, the sieve removes any oversized contaminants from the powder that might have accidentally entered the line (eg, some packaging, a piece of personal protective equipment, or foreign particles that might be inherent in the material), removing such Contaminants can enhance the quality of powders and final products, thereby protecting the reputation of pharmaceutical companies.
2. Classification: Classification or classification of powders or granules to separate different ranges of particle size. For example, primary and intermediates must be screened to remove oversized and undersized particles to ensure the correct particle size distribution in preparation for granulation and subsequent tableting.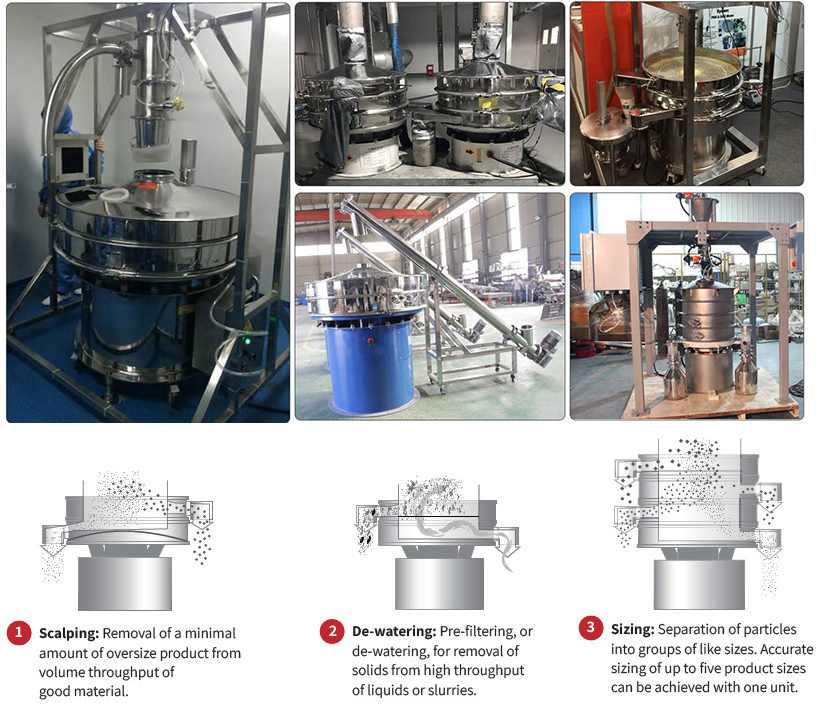 Technical Parameters of Pharmaceutical Vibro Sifter
Model
Diameter
(mm)
Feeding Size
(mm)
Frequency
(RPM)
Layers
Power
(kw)
Capacity
(kg/h)
DH-400
400
<10
<1500
1-5
0.18
100
DH-600
600
0.25
200
DH-800
800
0.55
500
DH-1000
1000
0.75
800
DH-1200
1200
1.1
1200
DH-1500
1500
1.5
1800
DH-1800
1800
2.2
2000
Structure and Details of Pharmaceutical Vibro Sifter
Pharmaceutical vibro sifter consists of dust cover, feed inlet, screen, grid frame, discharge outlet, vibration motor, etc.
Cleaning device, sealing device: Plastic accessories such as bouncing balls, retaining rings, and sealing rings of the pharmaceutical vibro sifter can only be made of silicone. Although this material is expensive, it has strong thermal stability, high adsorption performance and chemical performance. It is stable and will not cause secondary pollution to medicines.
Feeding inlet: The feeding inlet is designed with a large inclination angle. This design makes the whole machine have no dead corners that are difficult to clean, and can easily solve the disinfection and sterilization; the equipment is equipped with a dust cover at the feeding inlet to prevent powdery medicine or slurry During the screening of drugs, dust escapes and slurry splashes. On the other hand, it also guarantees the working environment inside the vibrating screen to a certain extent.
Sieve mesh: 304 stainless steel woven mesh is commonly used, which can sieve 500 mesh or 0.028mm pharmaceutical particles, pharmaceutical powder, etc.
Discharge port: The size of the discharge port can be designed according to the needs, and the discharge speed through the valve can be adjusted according to the needs.
Vibration motor: Some pharmaceutical materials are flammable and explosive, so the pharmaceutical vibrating screen uses an explosion-proof vibration motor for these materials to avoid combustion or explosion caused by overheating of the vibration motor shell during the production process.
As a pharmaceutical vibrating screen that is in close contact with pharmaceutical raw materials, its body material must be made of high-quality 304 stainless steel or 316 stainless steel. Thorns and black spots, to avoid pollution of pharmaceutical raw materials hygienic dead ends.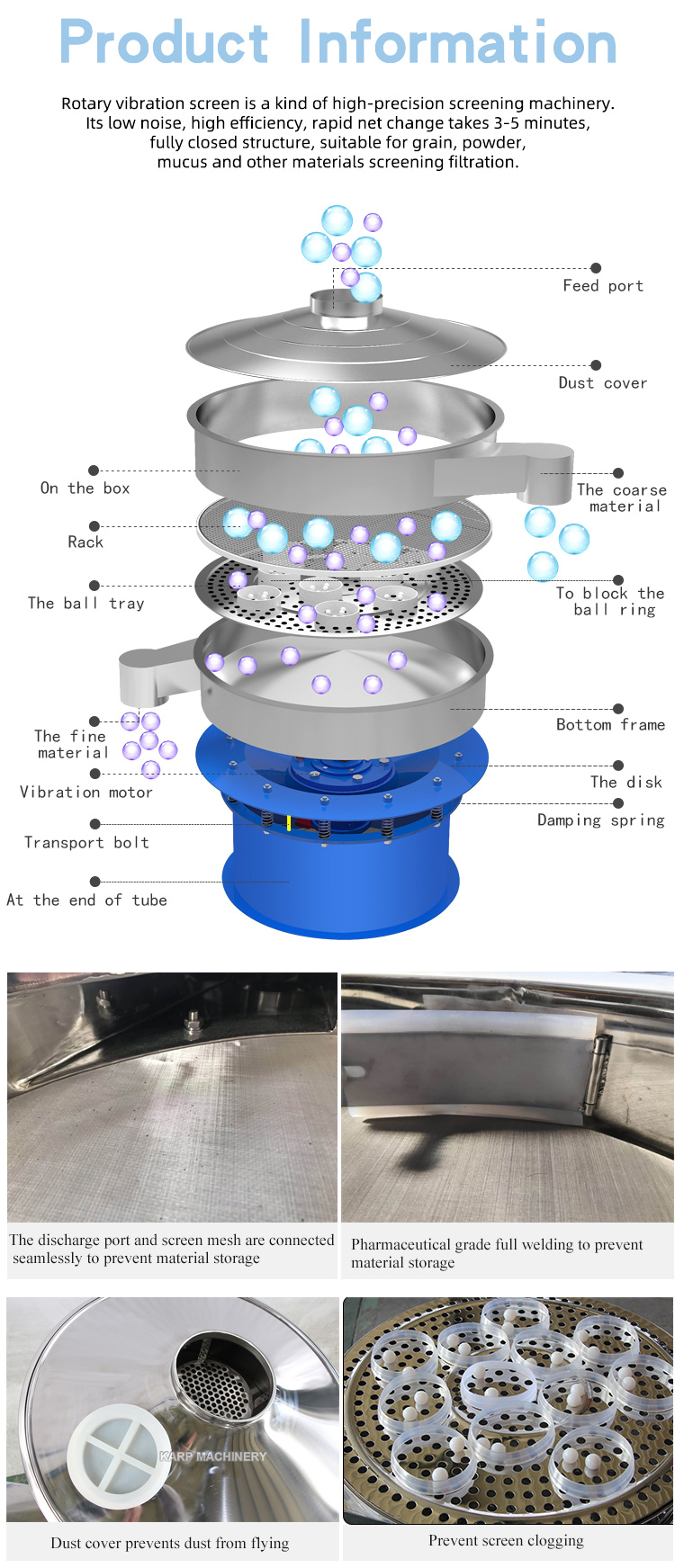 How To Choose A Pharmaceutical Vibro Sifter
1. The vibro sifter used in the pharmaceutical industry must be made of stainless steel 304 or even 316. Impurity contamination is not allowed in the parts in contact with the material, so the rubber accessories must also meet food-grade hygiene standards (silica gel), and must be used after using the pharmaceutical vibro sifter Special pharmaceuticals are cleaned to keep the sieving equipment clean, and the sieving equipment required by the pharmaceutical industry must pass the GMP production standard. The use of vibrating screens in the pharmaceutical field has very strict requirements and must meet the GMP pharmaceutical industry production standards.
2. The pharmaceutical vibro sifter supports the selection of screens. The screens generally have a diameter of 0.4 to 0.5 meters. Each layer is made of one to five layers of screens. The commonly used 304 stainless steel mesh can be divided into 201 ordinary stainless steel and 304 stainless steel. , 304L stainless steel, 316 stainless steel, 316L stainless steel. Due to its resistance to acid/alkali corrosion, it is widely used. The following explains the application of these materials for you:
201 stainless steel is suitable for general materials.
304 stainless steel screen mesh is better than 201 material, and the acid corrosion resistance material is better. The screen made of 304L is mainly used in the food industry, and it is more widely used in the food industry, and it is resistant to acid and alkali and high alkali corrosion.
316 stainless steel mesh and 316L mesh are used in the pharmaceutical industry, which can effectively reduce the metal pollution of medicinal materials and have high acid and alkali corrosion resistance.
Customization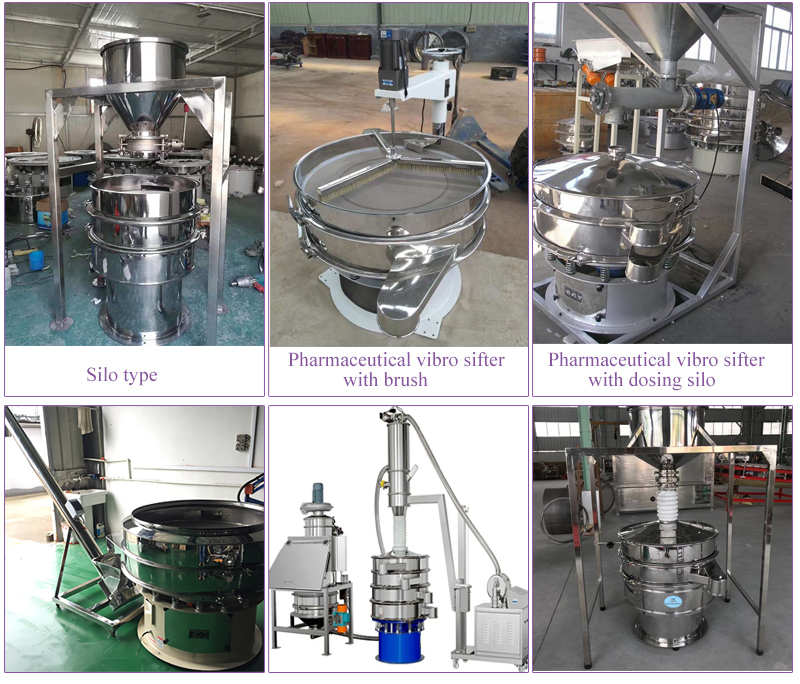 Proof of Solutions for Our Wide Range of Products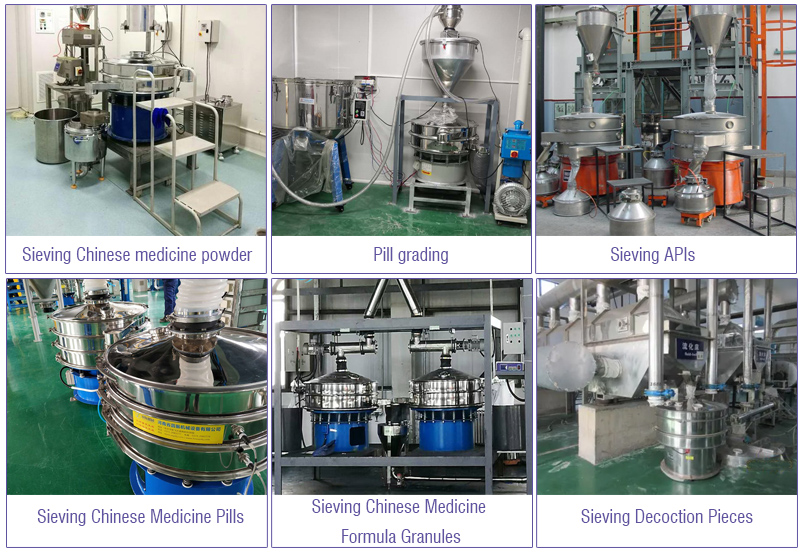 Materials
Proportion
Mesh
Processing Method
Capacity
(kg/hr IT/hr)
Model
Pharmaceutical powder
0.8
80
Dry
550㎏
DH-800-1S
Pill
0.7
20/60
Dry
800㎏
DH-800-2S
Chinese herbal extract
1
20
Wet
2000IT
DH-800-1S
Pesticide
80/150
Dry
1400㎏
DH-1000-1S
Pharmaceutical Vibro Sifter Manufacturers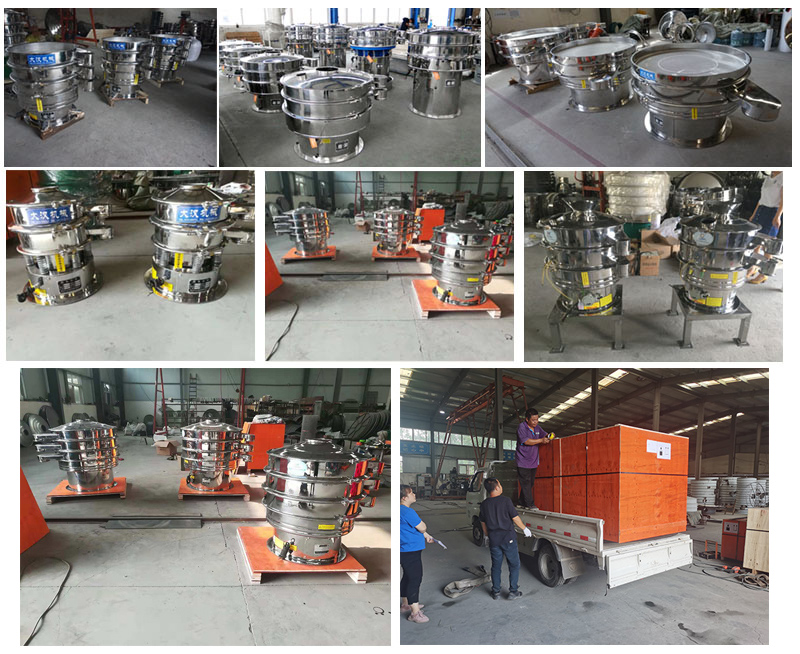 Dahan pharmaceutical vibro sifter always conducts the hygiene and safety screening process in accordance with the requirements of pharmaceutical companies. Dahan Machinery has experience in manufacturing a large number of pharmaceutical sieves and filters, which are specially designed according to pharmaceutical, safety regulations, with more than 13 years of rich experience serving the diverse screening and filtration needs of pharmaceuticals, we are in The pharmaceutical industry has successfully installed over 15,000 sieves, sorters, self-cleaning filters and custom sieves and filters.