What is Centrifugal Sifter?
The Centrifugal sifter is capable of screening, stripping and deagglomerating bulk solid materials at high throughput rates with little to no noise, vibration or product degradation. The large-sized particles enter the discharge chute through the sieve holes, and the undersized products enter the discharge port through the cylinder in a spiral shape. The paddles rotate at a speed of 600-800RPM, which can break up the agglomerates, and the screening efficiency can reach 85. -95%, the residue on the screen is basically 0 (difficult to achieve with ordinary vibrating screens), and the output is 5-10 times that of ordinary vibrating screens. Centrifugal sifter screens are available in a variety of pore sizes to meet a variety of screening applications in the processing and packaging industries.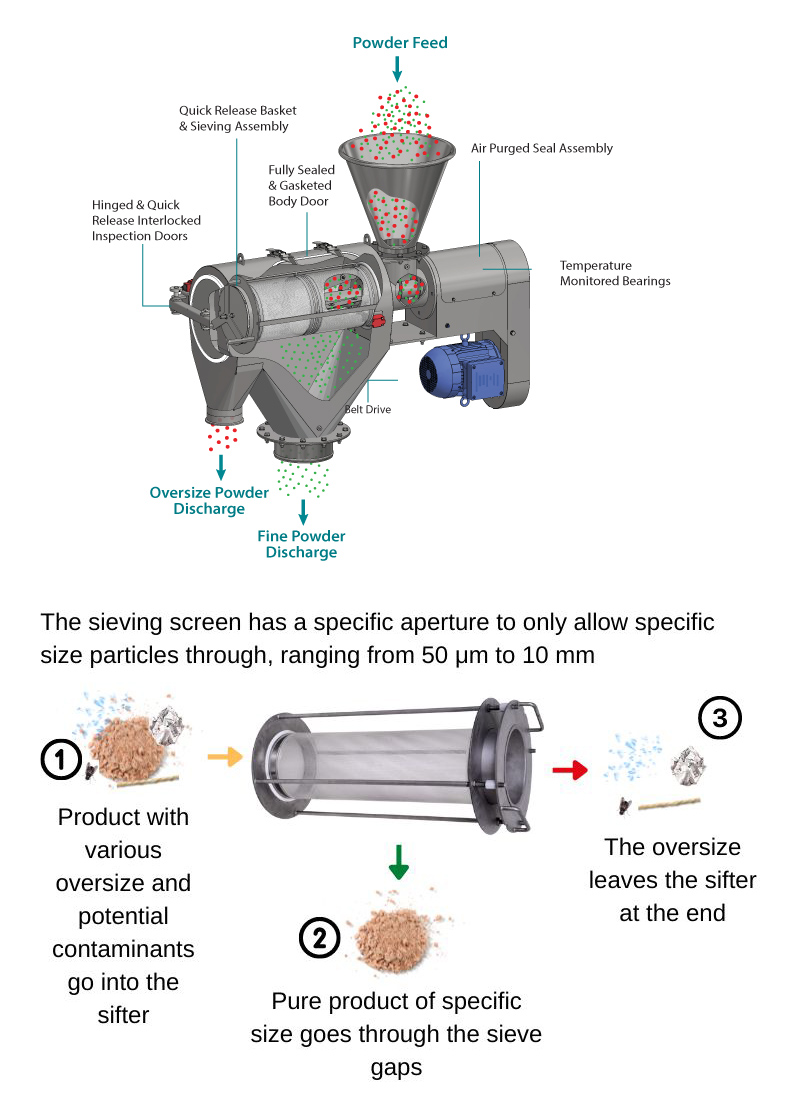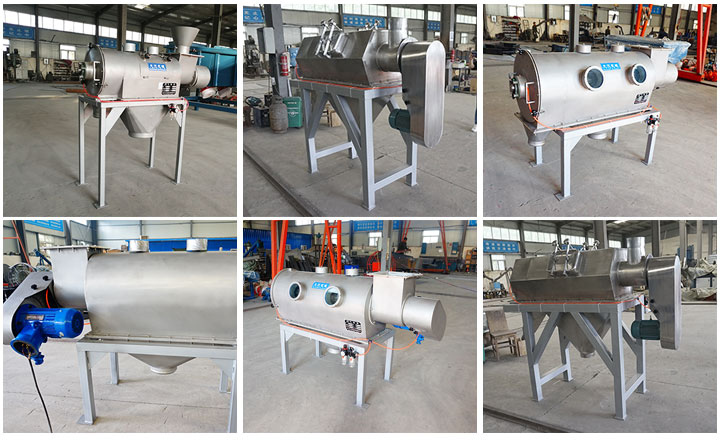 The Centrifugal sifter is available in a variety of sizes, the machine size is defined by the size of the screen surface, our largest machine, the WQS50-130, has a screen area of Ø30" x 1300" long and is available in carbon steel, 304 stainless steel or 316 stainless steel and is available in a variety of Finish options to suit your specific application.
Function of Centrifugal Sifter
Feedstock policing:Check to sift both product and minor ingredients to remove extraneous materials such as string, packing, insects, and bolts and for removing hard lumps of agglomerated products typically at the point of discharge from storage silos or sacks.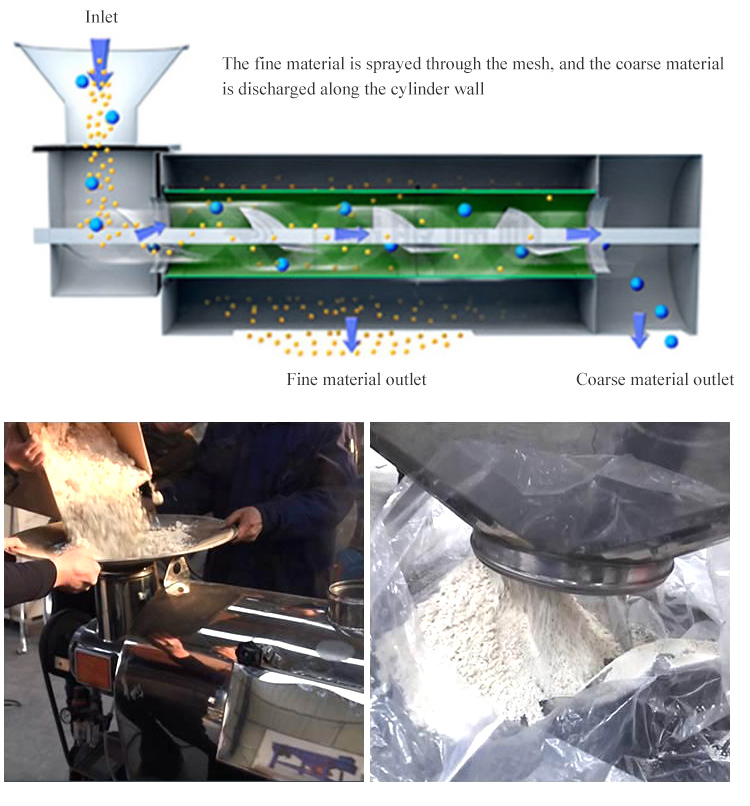 Scalping: Protecting processing or packaging equipment by removing the small percentage of products exceeding the maximum feedstock specification.
Classification: One or more sifters divide the product into the various grades required for further processing or packaging.
De-Dusting: Removal of fines that been generated during processing and handling which will otherwise spoil the appearance of a packed product or cause a problem during subsequent processing.
Related Videos
centrifugal sifter for flour

centrifugal sifter for silicon powder
Centrifugal Sifter Specifications

| | | | | | | | | | | |
| --- | --- | --- | --- | --- | --- | --- | --- | --- | --- | --- |
| Model | A | B | C | D | E | F | G | H | I | J |
| WQS18-65 | 1430 | 460 | 420 | 1005 | 135 | 230 | 250 | 330 | 340 | 210 |
| WQS30-100 | 1845 | 655 | 766 | 1240 | 320 | 285 | 300 | 350 | 380 | 290 |
| WQS50-130 | 2230 | 870 | 790 | 1775 | 280 | 515 | 150 | 660 | 400 | 485 |
Model
Material
Power
Application
WQS18-65
Q235A
2.2KW
Screening below 500 mesh
SUW304
WQS30-100
Q235A
4KW
SUW304
WQS50-130
Q235A
5.5KW
SUW304
WLQ-18-85, mesh diameter 180mm, length 850mm
WLQ-30-85, mesh diameter 300mm, length 850mm
Structure of Centrifugal Sifter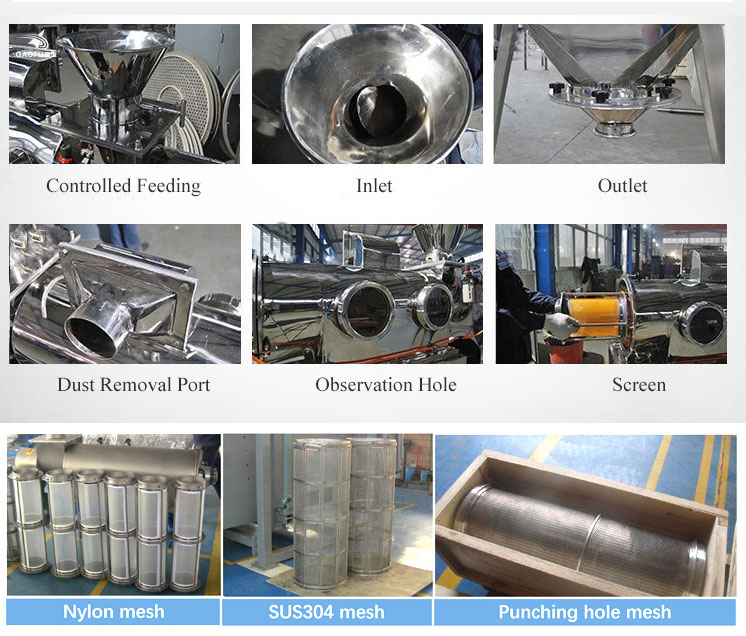 Centrifugal sifter is mainly composed of vibration motor, machine base, screen, feeding and discharging propulsion device, etc.
Motor: The motor drives and rotates at approximately 500RPM, providing vibration-free performance and high throughput with little or no product degradation.
Screens: A variety of pore sizes are available to meet a variety of screening applications throughout the processing and packaging industry.
Hinged access doors on the side of the housing allow for visual inspection, and the shaft end housing with vents and external bearings can be removed with screw knobs for replacement, inspection or cleaning of screens and paddles.
Feeding and discharging propulsion device: The rotating paddle throws the material towards and through the hole of the screen cylinder, and sprays the oversized particles to the discharge port through the downstream end of the screen cylinder.
Options/Capacity Enhancements

Dahan Machinery provides a variety of anti-blinding devices to increase production by discharging close-sized particles from the screen holes. These devices reduce the gap between the rotating paddle and the cylindrical screen without contacting or wearing the screen. Reducing the gap between the rotating element and the screen surface increases the screening rate at close-to-size conditions, thereby increasing throughput.
1. De-Blinding With Rubber: Rubber wiper blades handle fibrous materials that would otherwise get tangled in the bristles or around jagged edges. The rubber blade allows oversized particles to pass through the rotating blade and is also effective in liquid/solid separation.
2. De-Blinding With Air: The all-in-one air brush keeps the screen clean while handling fine meshes that are susceptible to damage or wear by mechanical anti-blinding devices. Air enters from the end of the hollow drive shaft and exits through multiple air nozzles, blowing the screen clean.
3. De-Blinding With Brush: The brush is flexible and held approximately 1/16" to 1/8" (1.6mm to 3.2mm) from the screen surface to prevent damage while allowing the desired particles to pass easily through the screen holes.
Product Customization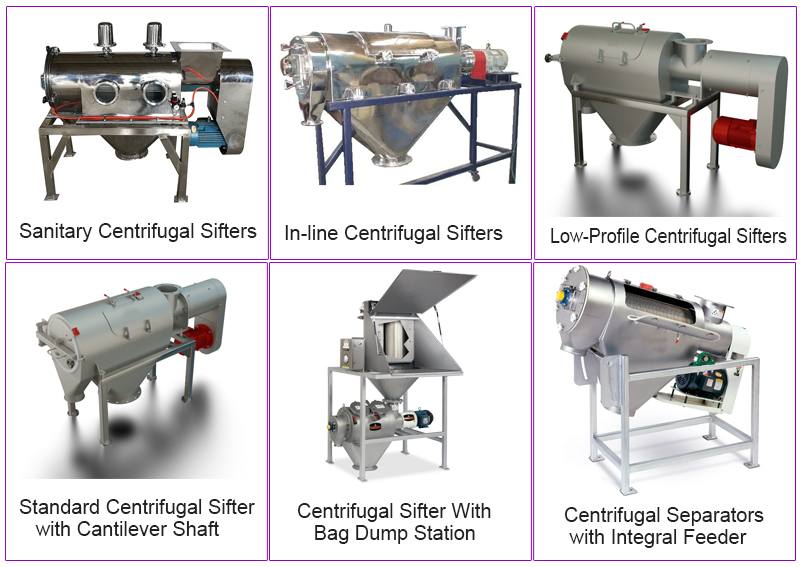 Centrifugal sifters can be customized to meet specific industrial applications. Some common customization types include:
1. Sanitary Centrifugal Sifters: They are typically made of SUS304 or 316Lstainless steel to meet specific requirements for cleanliness and hygiene in food, pharmaceutical and other hygienic applications. Sanitary features may include smooth, easy-to-clean surfaces, quick-release clamps for easy removal and cleaning.
2. In-line Centrifugal Sifters: These sifters are designed to be installed in a pipeline and are used to remove oversized or undersized particles from the product stream. The material flows through the sifter, and the centrifugal force separates the particles based on their size.
3. Low-Profile Centrifugal Sifters: These sifters are designed to fit in tight spaces and have a low profile. They are often used in applications where space is limited.
4. Standard Centrifugal Sifter with Cantilever Shaft: has a cantilever shaft with two externally mounted bearings between the screening chamber and the motor drive (no bearings on the hinged end plate), allowing all components to slide freely from the shaft end for cleaning, screen replacement or check.
5. Centrifugal Sifter With Bag Dump Station: With integrated bag dump station and dust collector, it can remove bag fragments and other oversized pollutants from manually dumped bulk materials, while protecting operators and factory environment from dust pollution.
6. Centrifugal sifter screener with Integral Feeder: The integrated feeder eliminates the need for a separate feeder while reducing headspace requirements. The feed controller also prevents overloads caused by fluctuations, thus extending the life of the screen.
Proof of Solutions for Our Wide Range of Products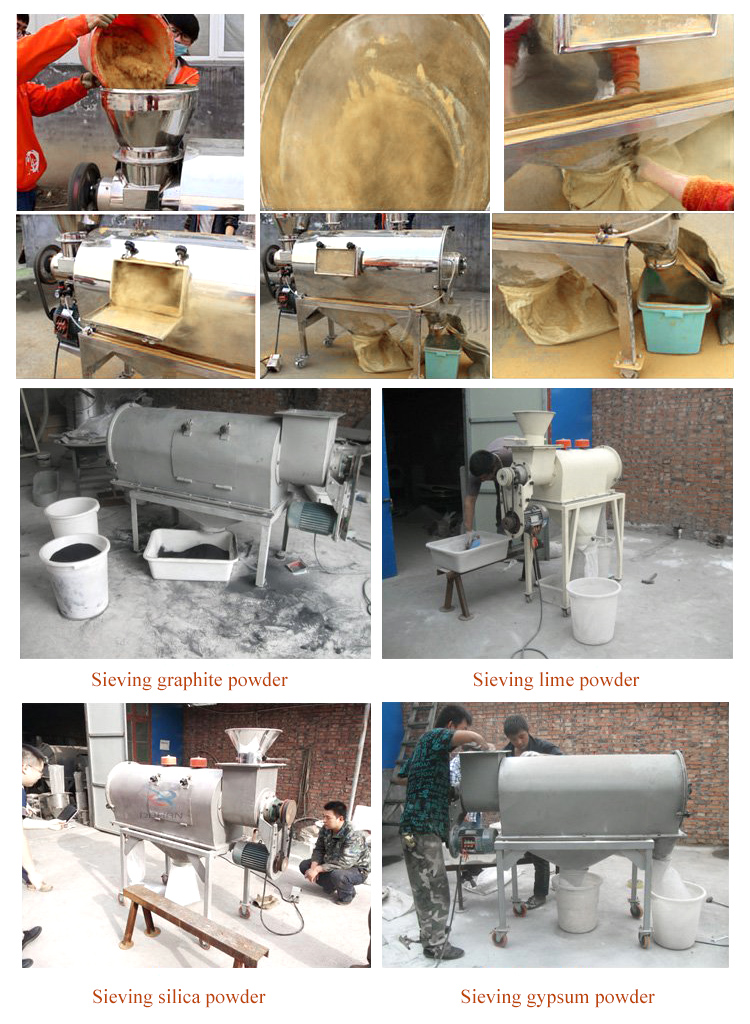 Material
Screen (mesh)
Capacity(kg/h)
Model
Light calcium powder
120-180
600
WQS18-65
Heavy calcium powder
400
800
WQS18-65
starch
300
500
WQS18-65
Zinc powder
325
900
WQS18-65
Fly ash
120-200
364
WQS18-65
Medicine powder
120-160
1000
WQS30-100
Quartz powder
180-270
1280
WQS30-100
Wood flour
100-300
2000
WQS50-130
Mica powder
300-400
1500
WQS50-130
Centrifugal Sifter Manufacturer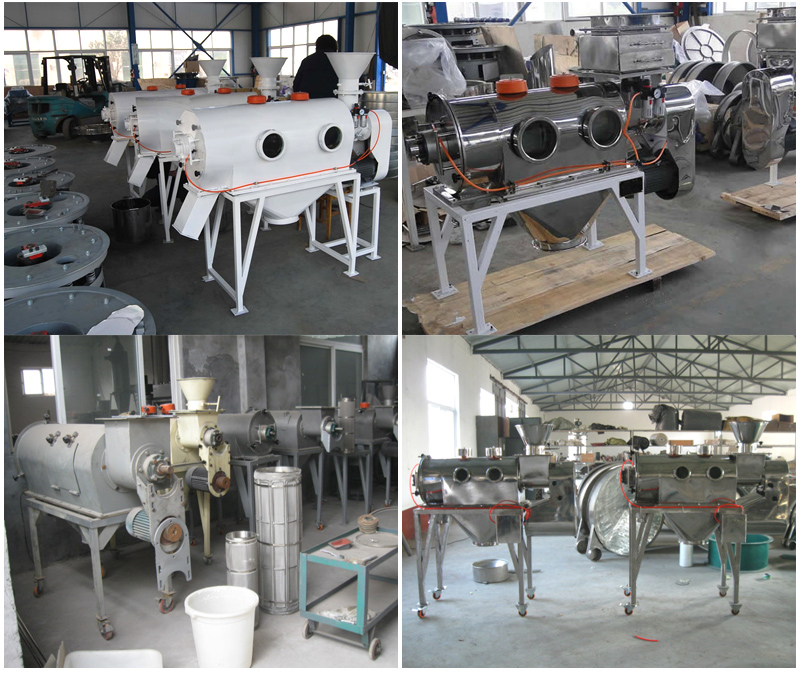 Xinxiang Dahan Vibration Machinery Co., Ltd. is committed to solving all screening problems of powder and granular materials. Centrifugal sifter has airflow feeding function, feeder crushing agglomerate function and airflow coarse sieving function. The power consumption is reduced, the quality of the finished powder passing through the screen is better, and it can be customized according to your screening requirements.