Introduction of Vibratory Sifter
Vibratory sifter is a kind of sieving or separation of materials by vibration, so that the products smaller than the screen size can pass through the screen smoothly, and the larger particles are left on the screen surface and discharged from the corresponding outlet to remove the raw materials. of oversized contaminants and agglomerates, ideal for screening incoming ingredients and final inspection of finished products, and grading to particle size requirements.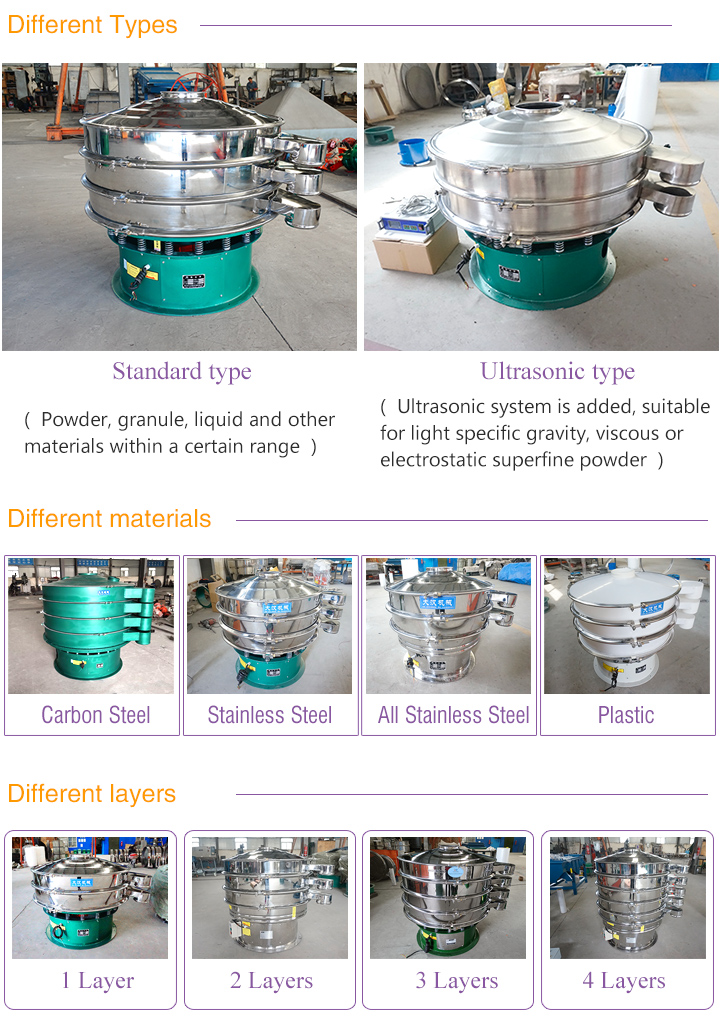 You can install 1 to 4 separation stages per vibratory sifter, resulting in 2 to 5 product fractions. A wide range of models (from Ø 400 to Ø 2000 mm) can meet any type of requirement. Moving wheels, sight holes, valves, magnets, frequency converters, labeling services and OEM orders are available upon user request.
Function of Vibratory Sifter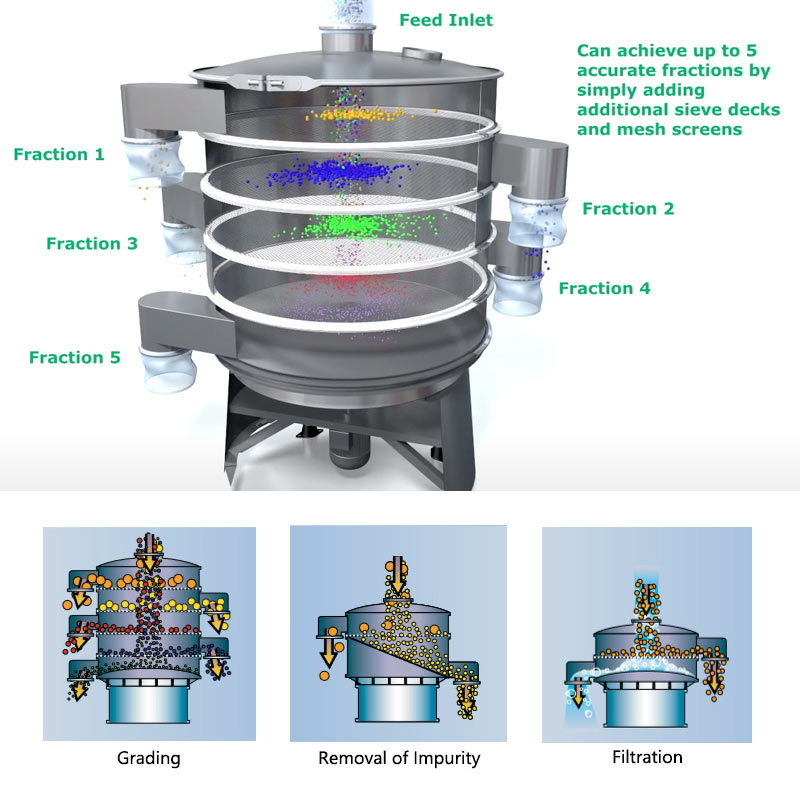 Impurity Removal: Used to remove broken or undersized products such as lumps and other contaminants for final quality checks.
Particle Size Classification: Precisely separate particles of different sizes from the product, so that the final material is classified into different sizes. This is usually achieved by passing the product through a grid of up to 5 different aperture sizes.
Solid-liquid Separation: It can quickly remove insoluble solid substances in various slurries, and can contact slag discharge. Most are single-layered, but multiple layers can also be used.
Batch Screening: Improves product quality and safety by breaking down lumps and filtering out oversized particles, contaminants and debris for smaller processes, batches or short production runs.
Types of Vibratory Sifter
Vibratory sifter has diameters of 400mm, 600mm, 800mm, 1000mm, 1200mm, 1500mm, 1800mm, and can also be customized for you. It allows throughputs from 100 to 3300 kg/h, depending on the product, mesh size and feed flow of the machine. It is suitable for sieving from 36 microns to 25 mm.
1.Standard type vibratory sifter: A commonly used type, widely used, suitable for screening and filtering powdery, liquid, granular and other materials, equipped with one or two vibrating motors, and the eccentric blocks at the upper and lower ends of the motion generating part make the machine vibrate around the center of gravity. These devices are mainly used for single-pass small batch operations: 100kg to 3300kg at a time.

2.Ultrasonic vibratory sifter On the basis of the rotary vibrating screen, an ultrasonic screening system is added, which is suitable for the screening of fine powders within 80-600 mesh, solves the problem of blocking the screen, and the output can be increased by 0.5-10 times.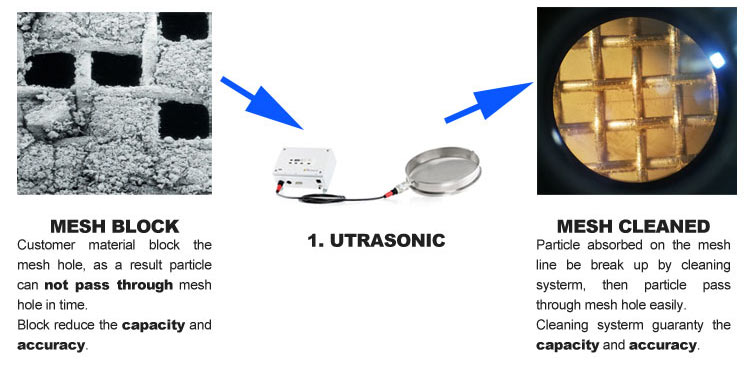 3.Gyratory vibratory sifter: Produces a horizontal rotary sieving action ideal for peeling, grading or fines removal from dry free-flowing powders. This screening motion retains material longer, has a slower and gentler screening action, and minimizes vertical agitation. These properties allow the finer material to stay in contact with the screen for longer, giving the material the greatest chance of passage without the help of an external force, resulting in a more accurate separation.

How A Vibrating Sifter Works
Feed the material to be separated through the feed port (feed port at the top of the circular vibrating screen), make sure the cover plate, screen structure and base are fastened with snap rings, due to the unbalanced weight assembly, the vibration motor will be energized, causing vibration Movement, the screen will start to vibrate, then, the material fed into the hopper will pass through the sieve according to the particle size, the material larger than the mesh size stays on the screen surface and is discharged from the coarse material outlet, and the material smaller than the mesh size falls into the The lower layer, according to the design of the vibrating screen, you can configure 1-5 layers of screens to achieve particle size classification.
Different parts of Vibratory Sifter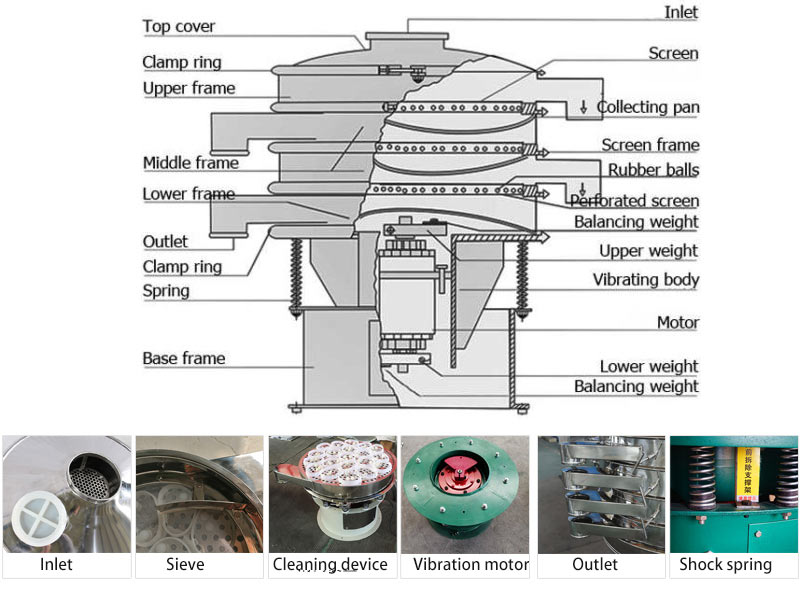 Dust cover: It confines the material and keeps the machine and surroundings free from dust.
Vibration motor: Adopt YZUL vertical vibration motor, power 0.18KW-4.0KW, it is this motor that causes horizontal, inclined, vertical three-dimensional movement, this movement will increase the speed of materials passing through the circular vibrating screen, in order to achieve this, The device is equipped with an unbalanced weight assembly.
Screen frame: The thickness of the material is 2.0mm~3.0mm, generally made of stainless steel, and carbon steel can also be selected, which limits the product to be processed to the required size and fineness.
Brace ring: it is used to connect the bottom cone and the screen frame, the upper and lower screen frames, and also to prevent material leakage.
Screen: maintain tension to make it easier for the material to move in the direction of vibration, commonly used 304 stainless steel braided mesh.
Perforated plate: carrying the screen and prolonging the service life of the screen.
Cleaning device: remove blockages in the screen holes and increase production. It is made of silica gel and rubber bouncing balls. Ultrasonic cleaning device (635 mesh) can also be selected.
Vibratory Sifter Customization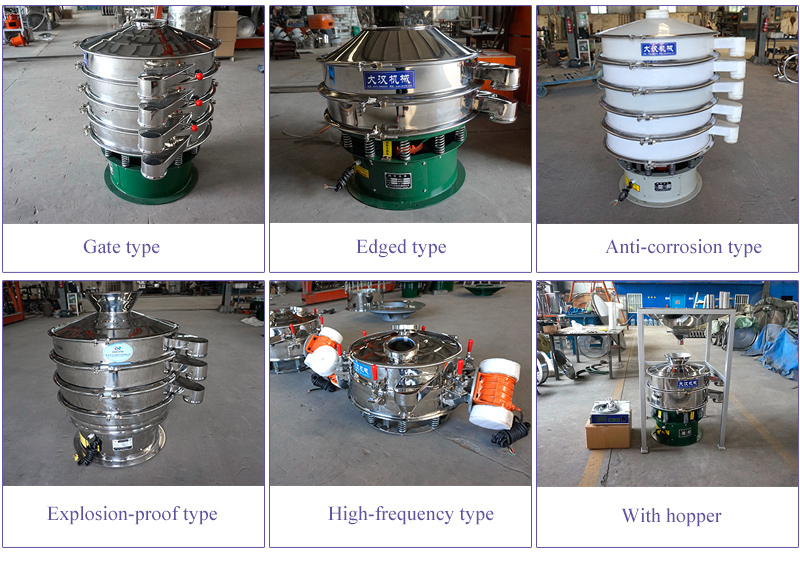 In addition to the standard vibratory sifter, individual designs can also be adopted according to the screening products and the on-site needs of the production line:
1. Gate type: The gate design can control the residence and screening time of materials on the screen, ensure the processing accuracy of difficult-to-screen materials (viscous and fine materials), and increase the processing capacity.
2. Edged type: The feeding port is designed to be heightened and protected. The edged design can increase the feeding amount, prevent the material from splashing, and observe the condition of the screen.
3. Anti-corrosion type: The part in contact with the material is made of polypropylene (PP plastic), which is a screening solution for corrosive materials such as carbon steel and stainless steel.
4. Explosion-proof type: The motor adopts special design, and the whole machine has better sealing performance, which is suitable for the screening requirements of special industries (powder, materials prone to static electricity, etc.).
5. High-frequency type: use high-frequency vibration motor (3000RPM) as the excitation source, good at filtering materials such as ceramic glaze.
6. With hopper: The material can be filled up in the silo at one time, and the flow rate of the material entering the vibratory sifter can be controlled by adjusting the butterfly valve on the silo for screening.
Customer Case
As a professional screening solution provider, we can provide customers with high-quality screening equipment and provide detailed technical support. According to the specific requirements of customers, the overall design and construction plan are tailor-made. Through the optimized combination of various types of equipment, different process requirements can be met.

Image
Material
Proportion
Mesh
Model
Method
Processing Capacity(Kg/h)
Wheat Starch
1
250 mesh
DH-1200-1S
Wet
3200
Flour
0.6
24 mesh
DH-1000-1S
Dry
1500
Medicine Powder
0.8
80 mesh
DH-800-1S
Dry
550
Soy Sauce
1
100 mesh
DH-1200-1S
Wet
6500
Salt
1.2
30/80 mesh
DH-1500-1S
Dry
5000
PVC Resin
1
0㎜/5㎜
DH-1200-2S
Dry
3000
Graphite
1.2
16/40/80 mesh
DH-1000-3S
Dry
1400
Aluminum Powder
0.9/1.2
80/120 mesh
DH-800-2S
Dry
350
Emery
4
60 mesh
DH-1000-1S
Dry
300
Spray Soil Particles
2
10 mesh
DH-1000-1S
Dry
18000
Mud
1.1
250 mesh
DH-1000-1S
Wet
3200
Why choose Dahan Machinery?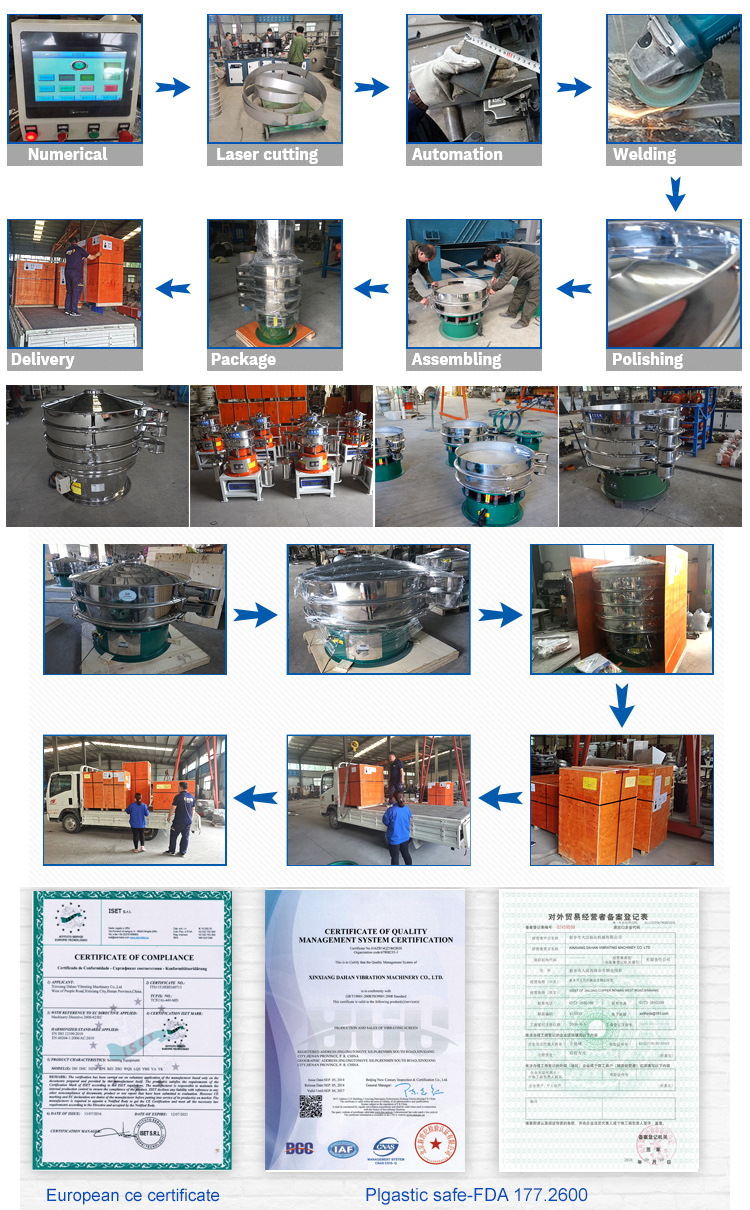 Since its establishment 12 years ago, Dahan Machinery has a factory area of 10,000 square meters, providing screening solutions for food, medicine, chemical industry, metallurgy, building materials and other industries. Cooperative customers include Coca-Cola Company, Sundaban Industrial Complex Co., Ltd., etc. The company has ISO quality system certification and EU CE certification, and the product quality is guaranteed.
Quality: 30-day refund for quality problems, 180-day replacement for quality problems, 1-year warranty, and lifetime maintenance.
Service: 30 minutes to respond to demand, we can design suitable screening and filtration solutions for you according to your needs.
Delivery: Regular models will be delivered within 24 hours, and customized models will be delivered within 7 days, which reduces the delivery cycle and saves user costs.