Core Advantage
Ultrasonic vibrating screen VS ordinary vibrating screen - sieving "flour"
Ultrafine Powder Screening
The ultrasonic system solves the problem of ultrafine powder screening with strong adsorption, static electricity, strong viscosity and high density.
Higher Yield
Compared with ordinary vibrating screen, the screening accuracy is increased by 1-70%, and the output can be increased by 0.5-10 times.
Do Not Block The Network
The vibration frequency is 36,000 times/min, high frequency and low amplitude, the material is easier to penetrate the net and can shatter the agglomerated material.
Clean And Hygienic
Fully enclosed stainless steel body design to avoid powder flying.
Compared with ordinary vibrating screen, ultrasonic vibrating screen is more capable:
Model
Ordinary screening machine
Ultrasonic vibrating screen
Test Results
Test material
Mesh
Test material
Mesh
Φ1000
Silicon carbide
500
Can't screen points
500
1500kg/h
Tungsten carbide powder
600
No fine powder was screened out for 15 minutes
600
30kg/h
Vitamin C Powder
400
1kg/h
100
120-150kg/h
Φ500
Pollen
400
No fine powder was screened out for 15 minutes
400
Screening out 20% fine powder in 15 minutes can be more fine and more effective grading
Nickel powder, Cobalt powder
325
There was a 32.2% sieve residue at 30 min
400
Screening meets the requirements once
Φ450
NdFeB powder
300
The screen meets the requirements for three times
300
There was a 6.9% sieve residue at 30 min
Principle and Structure
The ultrasonic vibrating screen converts 220V, 50Hz or 110V, 60Hz electrical energy into 36KHz mechanical vibration through the transducer, and the vibration is evenly transmitted from the resonance ring to the screen surface, and the vibration of rotation, inclination and jump formed by the excitation force of the upright motor. The three-dimensional motion is combined to carry out the screening work together, which can efficiently screen and prevent the mesh from being blocked.
Feed Inlet-Dust Cover-Screen Frame-Screen-Discharge Port: cooperate to screen materials;
Ultrasonic Power Source-Transducer-grid: the key structure, which generates ultrasonic mechanical energy. It can automatically track the full digital frequency according to the different states of ultrasound, without manual adjustment, and the operation is simple and convenient.
The mesh frame is designed with sticky mesh, which is more firm and solves the problem that the mesh diameter of the ultrasonic rotary vibrating screen is too small and easily damaged.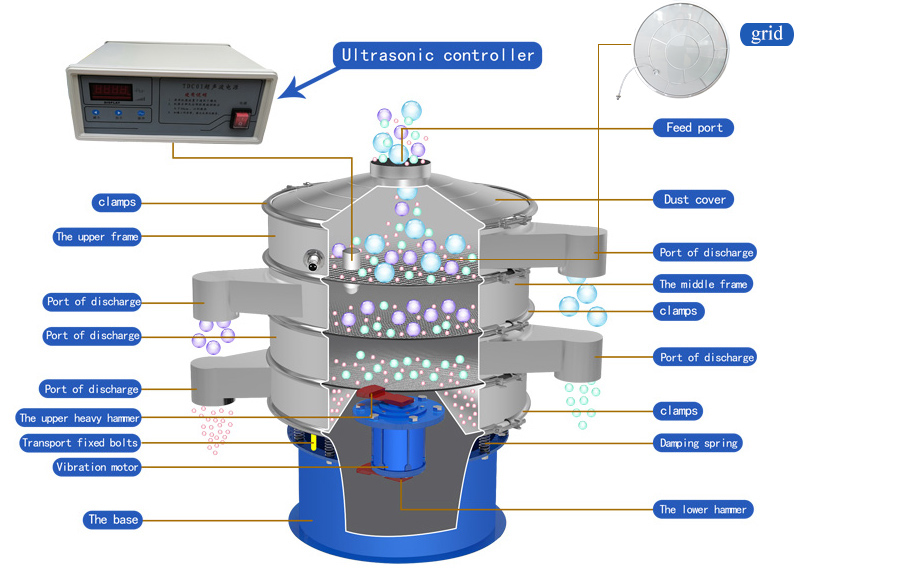 Motor - Heavy Hammer: power source.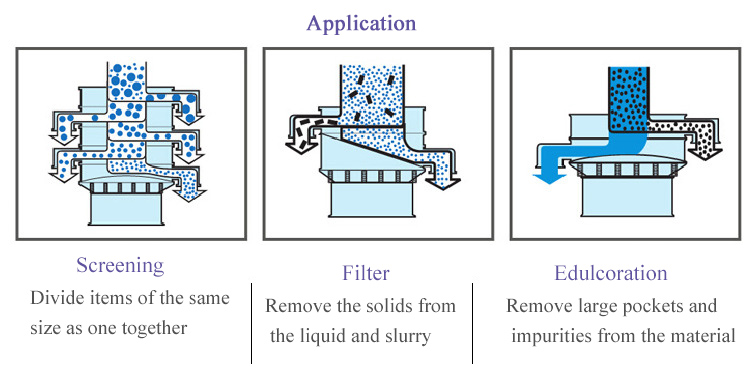 Model and Custom
Model
Screen Diameter
(mm)
Sieving Area
(m2)
Screen Size
(mesh)
Layers
Power
(KW)
DHC-400
340
0.091
80-600
1~3
0.18
DHC-600
540
0.229
0.25
DHC-800
730
0.418
0.55
DHC-1000
900
0.636
0.75
DHC-1200
1100
0.95
1.1
DHC-1500
1400
1.539
1.5
DHC-1800
1700
2.269
2.2
DHC-2000
1886
2.792
2.2
| | |
| --- | --- |
| | Flanged ultrasonic vibrating screen: the feeding port adopts flange design to increase the feeding amount, reduce the powder ejection, and facilitate the observation of the screening situation |
| | Gate type ultrasonic vibrating screen: a gate is designed at the discharge port, which can prolong the material screening time and improve the fineness of material screening by closing the gate. |
| | Explosion-proof ultrasonic vibrating screen: fully sealed screen box, using explosion-proof motor, suitable for screening of fine materials that are prone to static electricity and flying powder |
| | Ultrasonic gas protection vibrating screen: install gas protection device to ensure that the material does not contact the air during the screening process and overcome dust pollution |
User Case
2 sets of DH-1200-1S ultrasonic vibrating screen Hunan ** Environmental Protection Technology Co., Ltd.
DHC-800-1S ultrasonic vibrating screen Tongbai ** New Materials Co., Ltd.
DHC-600-1S Ultrasonic Vibrating Screen Guilin ** Nano Materials Co., Ltd.
1000mm ultrasonic vibrating screen Chenguang Biotechnology Group** Co., Ltd.
DHC-600-1S ultrasonic vibrating screen 1 set Xiamen ** Technology Co., Ltd.
400 Ultrasonic Vibrating Screen Wuhan *** Pharmaceutical Co., Ltd.
DHC-1000-1S Ultrasonic Vibrating Screen Chenguang Biotechnology Group** Co., Ltd.
2 sets of DHC-400-2S ultrasonic vibrating screen Beijing **** Technology Co., Ltd.
More Information
Installation steps of ultrasonic vibrating screen

Ultrasonic vibrating screen changer
Recommend Product